​Warren Buffett makes $1.4 bn bet on oil flow business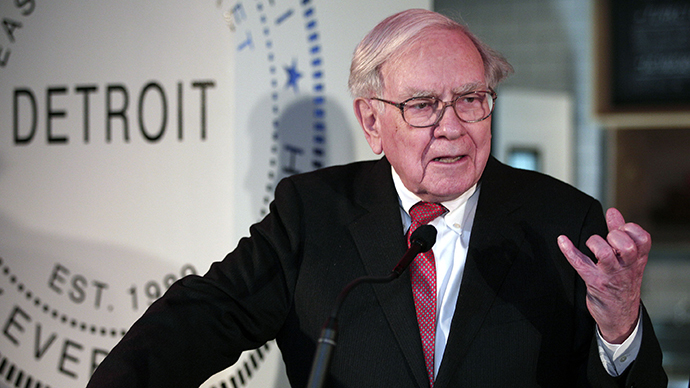 Warren Buffett's Berkshire Hathaway has sealed a $1.4 billion deal to acquire a division of Phillips 66 that makes chemicals to improve the flow of fluids through pipelines.
The deal is expected to close in the first half of 2014, Phillips 66 said.
About 19 million Phillips 66 shares that Berkshire holds in its invetsment portfolio will be used to pay for the deal, as the chemicals producer is in the middle of a $3 billion share buyback. Warren Buffett has disposed of more than 27 million of the company's shares on December 30 at $74.72 each, says the Financial Times.
"I have long been impressed by the strength of the Phillips 66 business portfolio," Buffett said in a statement. "The flow improver business is a high-quality business with consistently strong financial performance, and it will fit well within Berkshire Hathaway."
Warren Buffett's company is purchasing Phillips Specialty Products Inc. (PSPI), which is mainly engaged with developing and manufacturing polymers that maximize the flow potential of pipelines carrying crude oil, refined products or waste water, using about 19 million shares of Phillips 66 stock that it currently owns.
The specific number of shares Berkshire Hathaway will exchange will be determined by the share price at deal closing. The total value of the deal is just over $1.4 billion, however PSPI's assets include approximately $450 million of cash and cash equivalents, making the enterprise valued at about $1 billion.
Warren Buffett has decided to put James Hambrick, the chief executive of Lubrizol, in charge of the integration. Berkshire spent $9 billion to acquire Lubrizol almost 3 years ago.
Phillips 66 decided to sell the business because Berkshire made an attractive offer, and now the company will primarily maintain its oil and natural gas transportation and processing business, as well as its other chemicals businesses.
"Berkshire Hathaway made a strong offer for our high-performing flow improver business," said Greg Garland, Chairman and CEO of Phillips 66. "This transaction optimizes our portfolio and focuses growth on our Midstream and Chemicals businesses."
Warren Buffett favors larger companies with consistent earnings power and easy-to-understand businesses. Berkshire Hathaway ended September with $42.08 billion of cash and equivalents, gaining the lion's share of revenue from insurance services for which it's best known.