​Two men caught with $4.1tn worth of fake bonds at Vatican Bank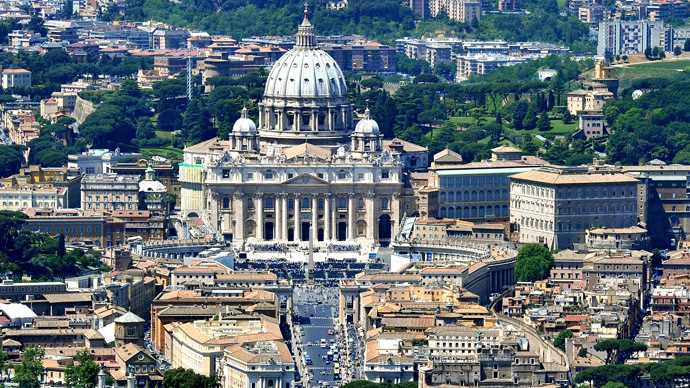 Police have caught two men allegedly trying to deposit trillions of fake euro bonds in the Vatican bank.
A middle aged American and a Dutch citizen approached the main gate of the Vatican on March 11 carrying a briefcase full of fake bonds with a face value of $4.1 trillion, claiming they had an appointment with bank officials, say police.
Davide Cardia of the Italian Financial Police said the smartly dressed fraudsters tried to convince the Swiss guards at the gate that cardinals were expecting them. With suspicions aroused the two men were detained.
"When we arrived, the Vatican police had opened the men's briefcase to find bond certificates valued in US and Hong Kong dollars, as well as euro, worth €3 trillion," said Lt Col Davide Cardia.
Investigators assume the fraudsters planned to use the counterfeit bonds to open a line of credit at the bank.
"We noticed the grammar of the English used on the certificates was full of mistakes – it looked like they had been written using Google Translate," Cardia told The Daily Telegraph. "Searching their hotel room we found the seals used to forge the bond certificates."
Under Italian law the two men were released as they were caught before carrying out a fraud and have now likely left Italy.
The Vatican Bank, officially called the Institute for Works of Religion (IOR), has been at the center of a number of scandals.
"We were surprised the two men tried this scam with the IOR – maybe they didn't know what is going on there at the moment," said Lt Col Cardia.
In September 2010 the Italian financial police seized 23 million euro from a bank account of Credito Artigiano belonging to IOR, and arrested the president of the IOR Ettore Gotti Tedeschi and another senior executive, accusing them for money laundering. Tedeschi was sacked from his post in May 2012.
At the end of 2013 a former Vatican accountant Monsignor Nunzio Scarano was charged with money laundering, for illegal transfer of several million euro from Switzerland to rich friends through the IOR.
You can share this story on social media: