​Vatican cleric in fresh money laundering charges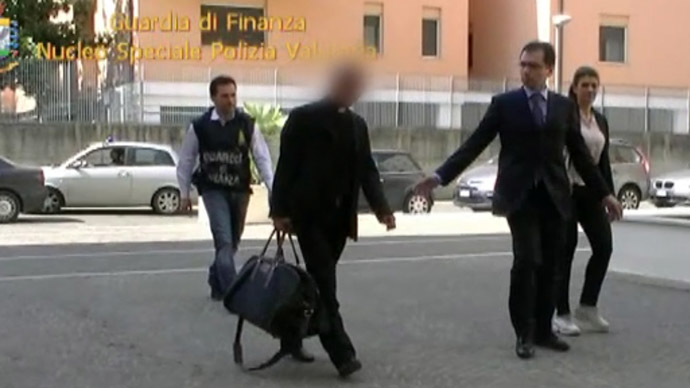 A former Vatican accountant Monsignor Nunzio Scarano has been newly charged with money laundering through the Vatican bank. He is already on trial for allegedly conspiring to smuggle $26 million from Switzerland into Italy in 2013.
It's alleged the multi-million dollar money laundering involved fictitious donations from offshore companies processed through his accounts at the Institute for Works of Religion (IOR), which is better known as the Vatican Bank. The Italian Financial police told AP that millions of dollars have already been seized, and other arrest warrants are expected to shed light on the scale of the scam.
The police haven't specified exactly how much money went through the IOR laundering scheme, but Scarano had about $7 million at his disposal in accounts at the Vatican and Italian banks.
Scarano's lawyer Silverio Sica, explained his client was merely receiving donations from people in good faith wanting to help build a hospice.
"We continue to strongly maintain the good faith of Don Nunzio Scarano and his absolute certainty that the money came from legitimate donations," Sica told The Associated Press.
However, his lawyer confessed that the money was used to cover a mortgage.
Scarano, aged 61, is now under house arrest in his native Salerno, near Naples. The smuggling investigation was already underway when the former Vatican accountant, nicknamed "Monsignor 500" for his propensity to pay with 500 euro banknotes, was arrested in June 2013.
The conspiracy with Italian financier Giovanni Carenzio and a member of the military police Giovanni Zito, came to light after phone taps. The three allegedly planned to bring into Italy $26 million (20 million euro) that Carenzio held in a Swiss bank account on a private jet, without paying customs duty at the airport.
The arrest of Scarano was followed by his dismissal as an accountant in the Vatican's main financial office and his accounts at the Vatican Bank were frozen by the authorities
In order to restore the trustworthiness and transparency of the Vatican Bank, Pope Francis formed an independent commission of inquiry to examine the activities of the bank and its legal status last year.
You can share this story on social media: