US teeters towards debt default, cash could run dry by end of Feb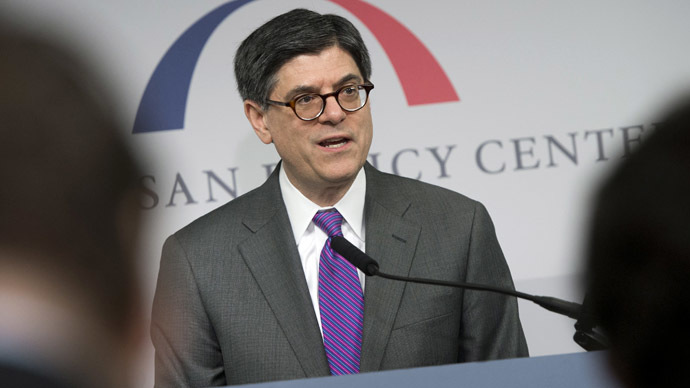 On Friday, America's debt limit extension expires and Congress is expected to renew its legal $16.7 trillion debt cap. If the debt limit isn't raised, the US could burn through its cash as soon as February 28, Secretary Treasurer Jacob Lew warns.
"Time is short. Congress needs to act to extend the nation's borrowing authority, and it needs to act now," Lew told an audience at the Bipartisan Policy Center, a Washington DC think tank.
On Friday, February 7, Congress will vote to increase the statutory debt limit, which will enable the government to pay for spending bills it has already passed.
"Without borrowing authority, at some point very soon, it would not be possible to meet all of the obligations of the federal government," Lew said.
The Bipartisan Policy Center has also calculated if policymakers don't act, the Treasury won't have enough cash-on-hand to pay for government programs, but estimates the 'X date' – when the US runs out of money- will fall between February 28 and March 25, with a high probably it will occur on or before March 14.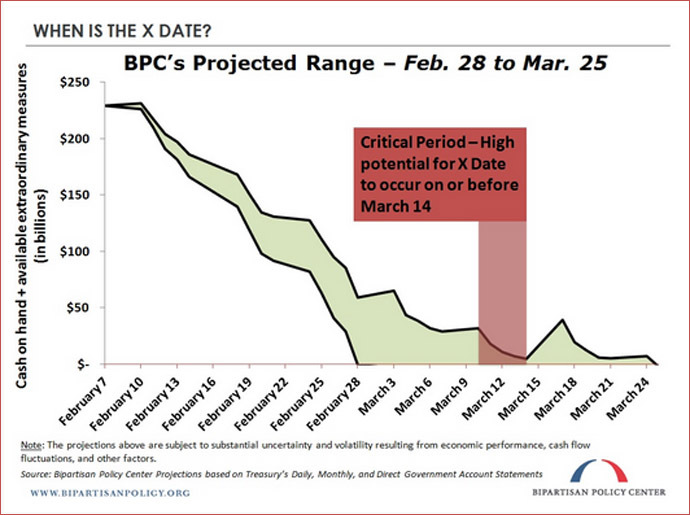 Spring tax season makes the maneuver all the more tricky. This is the time of year the federal government is sending out tax refund checks, an additional drain on the country's cash pile. Spending in just one day in March could exceed $10 billion.
Because the next months will be cash-tight, Lew and other policymakers strongly urge Congress to raise the public borrowing limit.
The debt limit has been suspended since October 17, when Congress passed a fiscal deal in order to re-open the government, which had partially shut down for 16 days. The autumn budget turmoil in the US cost the American economy an estimated $24 billion and sent waves of panic through global markets.
If the US continues its cash dash, a debt ceiling showdown between Republicans and Democrats could resurface as early as March. In October, the government shut down (https://www.rt.com/usa/us-congress-government-shutdown-568/ ) because Republicans used the threat of default in an effort to re-negotiate "Obamacare", which they wanted to defund.
'Extraordinary measures'
If Congress doesn't come to an agreement on raising the debt ceiling, the US Treasury will have to use fiscal tools, or tricks, to pay the bills. These have been dubbed by Lew as "extraordinary measures".
Debt Payments

• Daily: $2-15 billion in tax refunds
• February 28: $37 billion in major payments (Medicare $17 billion, Debt Interest $5 billion, Military Pay, Veteran Benefits)
• March 3: $26 billion in Social Security payment
• March 12: $12 billion in Social Security payment
• March 19: $12 billion in Social Security payment
"In just a matter of days, the temporary suspension of the debt limit will end, and the Treasury Department will have to start using extraordinary measures so the government can continue to meet its obligations," Lew said Monday.
'Extraordinary measures' would mean more public debt for the country, which already has skyrocketed to over $17 trillion. About $198 billion in extra cash would be made available in case spending outpaces the debt limit.
Congress has already approved a $1.1 trillion bi-partisan spending bill, but raising the debt ceiling is the next step to guarantee the government can cover the approved expenditure.
You can share this story on social media: