Ukraine needs $35bn in aid to 'stay afloat' – Finance Minister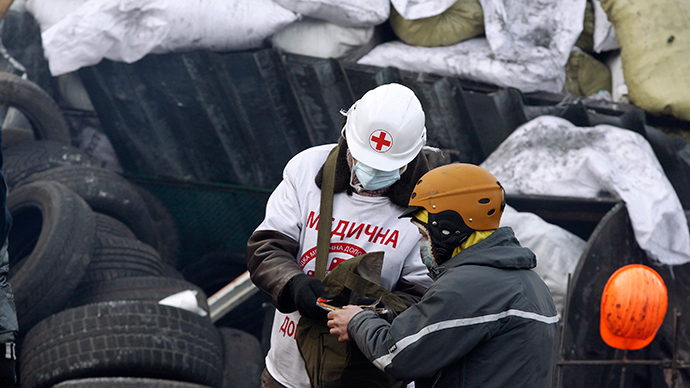 ​A second-wave of revolution, a missing President, and a treasury that is nearly empty, Ukraine is on the brink of bankruptcy. Kiev's finance minister said it needs $35 billion in aid by the end of 2015.
Acting Finance Minister Yuriy Kolobov said the situation is "difficult but controllable" and proposed calling an international conference of donors with the EU, the US and other countries to seek financial assistance.
One of the main goals will be forging a path for Ukraine to sign an EU Association Agreement, which, when President Yanukovich failed to sign in November set off protests in the country. An arrest warrant has been issued for Yanukovich for his role in last week's bloody clashes in which 82 people died.
"The new government's task is to stop the country's decline, to stabilize the currency, ensure timely wages and pension payments, to win back investor trust, and to create new jobs," Kolobov said.
The European Union has said it would provide financial assistance to Ukraine to help it avoid default or bankruptcy. On Sunday, the UK Chancellor said the US and EU should be ready to help Ukraine rebuild "with a check book" in hand.
Opposition leader Arseny Yatsenyuk, a member of the Batkivshchina (Fatherland) Party, and a favorite of the West is likely to be appointed prime minister, and has warned that Ukraine's economy is on the edge of collapse.
"We have to ask for financial help from the International Monetary Fund," said Yatsenyuk, commenting that Ukraine has never seen a financial catastrophe on this scale in its history.
Speaking after Sunday's Group of 20 finance and central bankers meeting, IMF Managing Director Christine Lagarde said the organization is "ready to engage" with Ukraine, providing both humanitarian and financial support.
An IMF bailout was unattractive to the politicians in power, who instead, led by then-President Viktor Yanukovich, signed a $15 billion aid package with Moscow in December. The Washington-based institution said a bailout was possible if Ukraine ended gas subsidies (which would send gas bills soaring), froze salaries as part of an austerity program, devalued the over-valued and dollar-pegged hryvnia, and other budget cuts.
IMF bailouts have crippled much of southern Europe, as most governments, in exchange for loans, have had to introduce extreme austerity measures, which have left countries like Greece worse off than before the debt crisis.
'State has been robbed'
Ukraine's depreciating currency reserves and massive deficit have brought it close to economic collapse. In the last year, reserves have tanked 28 percent down to $17.8 billion at the end of January, according to Bloomberg.
"The state treasury has been robbed. The country has been brought to the brink of bankruptcy," Yatsenyuk said during a parliamentary session on Monday.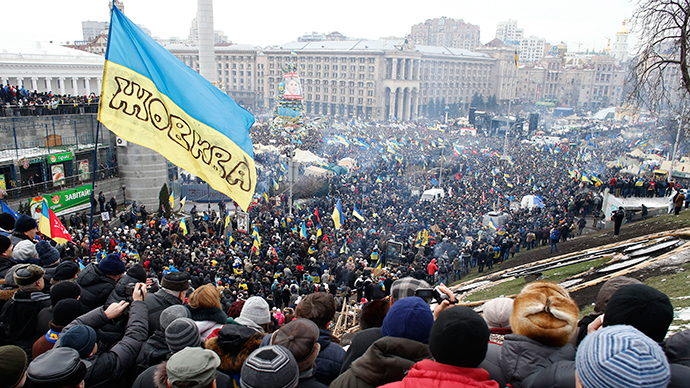 Ukraine's foreign debt is $140 billion, nearly 80 percent of the country's gross domestic product. Ukraine's government reserves are so depleted they may no longer be able to keep national energy company Naftogaz afloat, and the government may be forced to privatize it. Such a proposal was drafted last April, but controversially has still has not been voted on in the Ukrainian parliament.
The at-risk economy has prompted the big three rating agencies to downgrade their outlook on Ukraine, lower than the junk level of Greece or Cyprus. Most recently, ratings agency S&P downgraded Ukraine's credit rating from CCC+ to CCC and warned it was "likely to default."
The government of Ukraine has stopped all government payments except for salaries to state employees at the request of acting Deputy Prime Minister Aleksandr Vikul.
Parliament Speaker Aleksandr Turchinov, acting president of Ukraine, said earlier that the economy was in a "pre-default situation" and "spinning out of control."
Medvedev uneasy on aid
Since street violence and political uncertainty have escalated, Moscow has reneged on its aid promise, as they want to wait until Kiev has a legitimate authority to follow through on agreements.
"Frankly, the legitimacy of many governmental bodies is in doubt there," Russian Prime Minister Medvedev said on Monday.
"Treating masked men armed with Kalashnikov rifles, who are now circling Kiev, as a government – we would find it difficult working with such a government," the PM said.
Medvedev added that Russia is willing to fulfill all its obligations under agreements signed with Ukraine, but is concerned that its interests may be under threat. A sign of this unease is the recall of the Russian ambassador to Ukraine back to Moscow for consultations.
Newly-freed former Prime Minister Yulia Tymoshenko, who was released from prison on Saturday, said she would return to the country's broken political scene when speaking to crowds in central Kiev. Early elections will be held on May 25, 2014.
You can share this story on social media: