S&P says Ukraine "likely to default"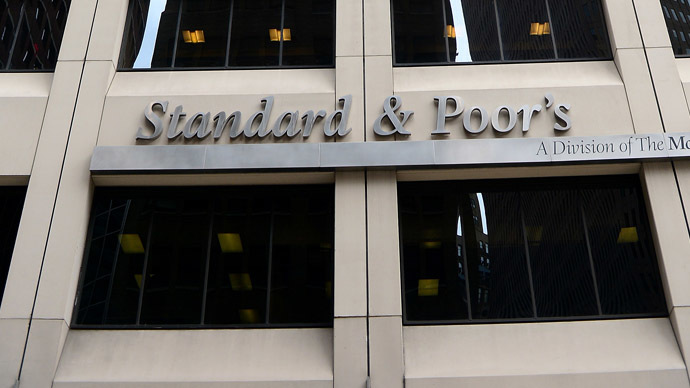 S&P has cut Ukraine's rating one notch deeper into junk status, as the political instability grows and the number of dead has climbed to 80. It says the government has little chance to service its debt and further help from Russia is uncertain.
Standard and Poors' reduced Ukraine's rating from CCC to CCC-plus with a negative outlook.
"Ukraine will default in the absence of significantly favourable changes in circumstances," which it doesn't anticipate, the Financial Times cites S&P.
"Theclashesbetween protesters and security forces that began on Feb. 18 lead us to conclude that a conciliatory end to the political stand-off is now out of reach," the agency said.
Watch RT's LIVE UPDATES
Further aid from Russia is also now a big question, as the Ukraine leadership has become more uncertain than ever, the agency added.
"We believe that the Russian government's support for Ukraine is tied to the current leadership and its political orientation away from the EU and toward Russia. As a result of the intensifying political turmoil in Ukraine, we consider that continued Russian support up to the committed$15 billionis increasingly uncertain."
"Should Russian financial support fall short of Russia's commitments, we expect the government of Ukraine to default on its foreign currency obligations," the report added.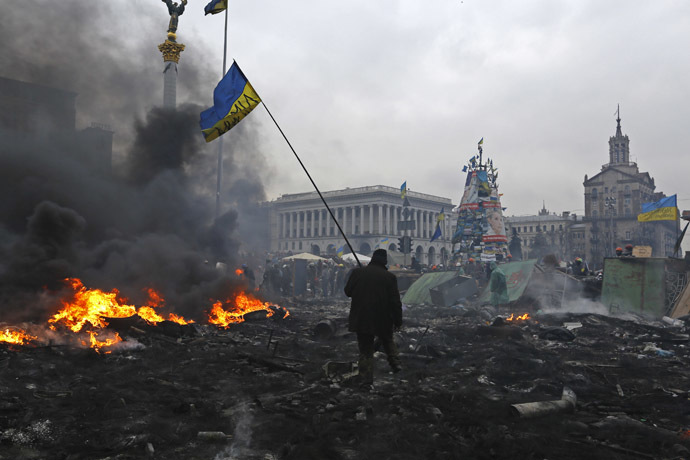 However, Russia's top officials have said they are not going to scrap the agreed plan for financial aid to Ukraine, adding though that first the situation in the country should stabilize.
On Monday Russia's Finance Minister Anton Siluanov said Moscow would buy $2 billion of Ukrainian Eurobonds by the end of this week, in addition to the $3 billion it bought in late December. The deputy head of the presidential administration and Vladimir Putin's spokesman, Dmitry Peskov, also said that Russia would stick to the agreement to provide money to Kiev, but added that the situation in the country must stabilize so that the payments could continue.
On Thursday the Russian Prime Minister Dmitry Medvedev said cooperation with Ukraine would continue along agreed lines, though adding that Ukrainian officials need to stay legitimate and effective, rather than "a doormat for everyone to clean their feet."
The sliding hryvnia is also adding pressure on government solvency, as over a half of Ukraine's debt is denominated in foreign currency. Ukraine's hryvnia hit its all-time low of 8.95 to the dollar two days ago, despite every effort by the government to keep the currency in check.
S&P says the hryvnia is highly likely to devalue soon.
Timur Nigmatullin, an analyst from Investcafe, says that all the key figures show that Ukraine's solvency is now extremely weak, regardless of the next tranches from Russia.
The budget for 2013 was based on the absolutely unrealistic GDP growth of 4.5 percent, while in reality the economy was balancing between stagnation and recession last year. "As a result, the budget deficit reached $10 billion," Nigmatullin said. Also, to support the hryvnia, Ukraine's government has been actively spending money from its gold and forex reserves, which have fallen to a critical level of $17.8 billion. "This would hardly cover two or three months of imported goods and services and is half the monetary base."
If Ukraine doesn't find a new source of finance, it would default on its obligations, the analyst concluded.
You can share this story on social media: