Osborne prescribes UK £11.5bn austerity pill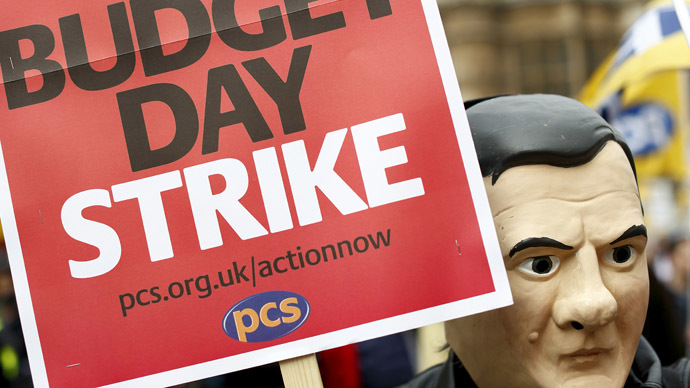 The UK Chancellor's new austerity program sees millions of doctors, teachers and civil servants losing automatic pay rises. George Osborne is extending spending cuts to 2015-16, forced by slower than expected economic growth and deficit reduction.
George Osborne has detailed a massive £11.5bn budget cut for the election year 2015-16. Local government budgets and welfare payments are among those hardest hit, according to the plan.
"Difficult decisions" still had to be made, media quotes Osborne. He says, pay rises in the public sector would be limited to one per cent while further job cuts would be made.
"While recovery from such a deep recession can never be straightforward, Britain is moving out of intensive care - and from rescue to recovery," Osborne is reported as saying.
"We've always believed that the deficit mattered; that we need to take tough decisions to deal with our debts - and the opposition to that has collapsed into incoherence," he told Parliament.
Speaking about recovery from one of the biggest economic crises the world has seen, Osborne said the government brought the deficit down by a third, got a record number of people into work and saved the economy from bankruptcy.
The country's borrowing was reduced by £49bn, which is almost the equivalent of the education budget, FT quotes Osborne. He also said that confirmed total managed expenditure would be £745bn and would continue to fall in real terms at the same rate as it is doing today.
The Chancellor however sugared the austerity pill with an infrastructure boost, announcing £300bn of new capital spending projects by the end of the decade - including the largest program of road building in 50 years.
Spending on international aid, health and education was protected. Defence spending will be largely protected with no cuts to army, air force and navy numbers. UK spy agencies are planned to get £100mn bonus to tackle terrorism.
George Osborne has been cutting spending aggressively since coming to power in 2010. However, weak economic growth and a costly welfare system disturbed the government's original plans to wipe out a budget deficit which it inherited at 11.2 percent of GDP, International Business Times reports.
The country's austerity program has been challenged by the loss of its triple-A credit rating and calls from the International Monetary Fund to postpone cuts and increase infrastructure investment, according to the paper.
Britain's unpopular austerity program is also witnessing growing public anger. Last Saturday thousands of people took part in the first People's Assembly Against Austerity that brought together unions, activists and many members of the public from teachers and nurses to the unemployed.
You can share this story on social media: