Tweet your ad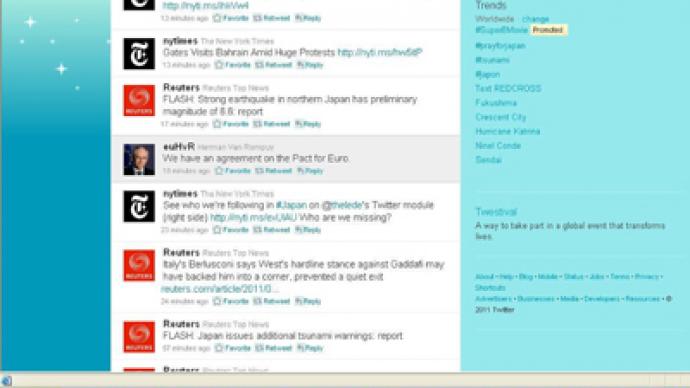 Many companies use Twitter to promote their products to the growing army of twitters. But now Twitter has launched a service allowing small business to place ads in the newsfeeds, even if users don't follow them
To place a so-called "promoted tweet" a company should only deposit payment to Twitter's bank account. Currently the new service is limited to the US-based retailers and advertisers who use American Express cards, but later it will be opened to other cardholders.
The new service is amplified to small businesses, which will place their ads without help of sales managers. As for big companies, they can provide their commercials in Twitter through sales services.
Twitter has been searching ways to expand advertising on the messaging platform and to boost its revenue. Earlier Twitter started service allowing advertisers to pay for showing their messages on certain search requests. Businesses can also promote their accounts and trends on Twitter.
The company has more than 200 million active users and opportunities for online advertising seem to be enormous.
But experts say promoting products and services with Twitter has already become a business and Twitter would face challenge to get its own piece of cake in advertising.
"The main problem Twitter will face after launching the new service in Russia and around the world are numerous exchange floors, which sell their tweets to popular users. The cost of those tweets varies from $0.5 to 20.000 in Twitter channels of western celebrities", says Damir Khalilov, the Head of Green PR agency.
"Another problem is that these messages would have pronounced advertising nature. So it will be less effective as users usually skip strongly commercial information. To avoid this effect, tweets should be similar to ordinary tweets as far as possible", Mr Khalilov said.
The cost of the new service has not been announced yet. Twitter had already earned $140million last year with commercial contracts with big companies. For example, last year Google earned more than $36 billion on online ads, while Facebook has got $3.6 billion with placing commercials.