EU, US to launch talks on 'biggest bilateral trade deal in history'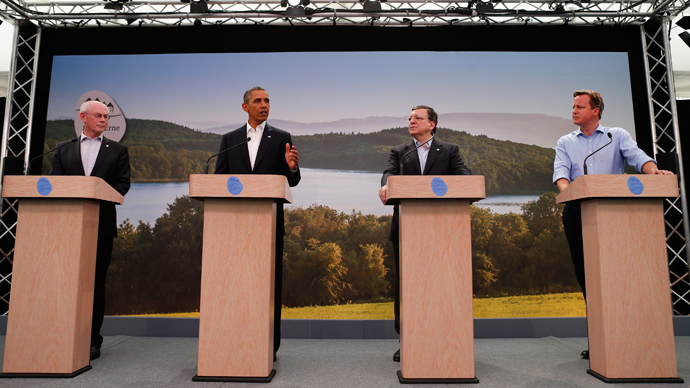 US President Barack Obama and EU leaders have officially announced they will start negotiations on the creation of the world's biggest free-trade agreement, which could boost economic growth on both sides of the Atlantic.
The talks to build an ambitious pact, called the Transatlantic Trade and Investment Partnership (TTIP), will begin next month with the aim to be concluded by the end of the year. 
The deal – that has been mulled over for decades - could offer "huge economic benefits" for the US and the European Union, Jose Manuel Barroso, President of the European Commission said on Monday, at the G-8 summit in Loch Erne, Northern Ireland.
The agreement would be a "once in a generation prize," which could add as much as about US$ 157 billion to the EU economy, over US$ 125 billion to the US economy and as much as around US$ 133 billion to the rest of the word, stated the host of the summit - British Prime Minister David Cameron. The deal would also mean "two million extra jobs," more choices and lower prices for consumers, the host of the summit added.
"We are talking about what could be the biggest bilateral trade deal in history, a deal that would have a greater impact than all the other trade deals on the table put together," Cameron stated at a joint media conference with Barack Obama, Barroso and President of the EU Council Herman Van Rompuy.
The first round of talks on the TTIP will be held in the US in Washington. Despite support for he planned deal in Washington as well as among the EU leaders, the sides admitted that the negotiations will not be easy, but are worth it because of the strategic and economic importance of the partnership. 
According to President Obama, the idea for the agreement was "warmly received" by the country's Congress and business community. He emphasized that the TTIP "is going to be a priority of mine and my administration."
You can share this story on social media: