Tokyo calling: Positive business data from Japan
Published time: 1 Jul, 2013 11:39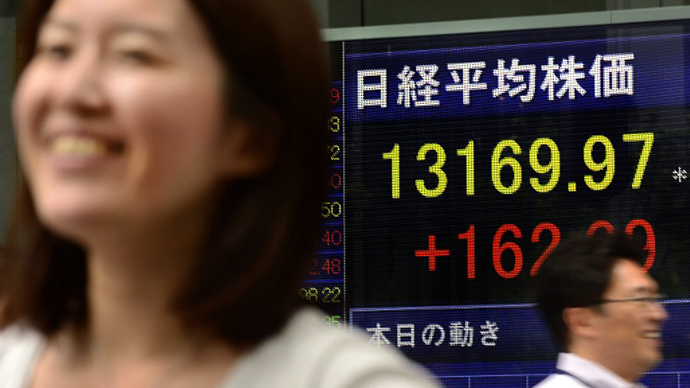 While economic powerhouse neighbors China and India have had sobering news of decreased business demand and financial distress, sentiment in Japan's manufacturing sector has turned positive for the first time in two years.
The large manufacturing Tankan survey from the Bank of Japan rose to plus 4 in the April to June period, the second straight quarter of improvement and first positive reading in nearly two years.

The figure jumped from the previous quarter's minus 8. It indicates Japan's economy is beginning to shake off the effects of the global crisis. 
The service sector sentiment also snapped its low streak with big non—manufacturing companies rising to plus 12, slighting beating the forecast plus 11 figure. 
Across the board, large companies plan to increase capital spending by 5.5 percent this fiscal year.

"The Tankan confirmed that expectations among big Japanese manufacturers for a weaker yen and a steady economic recovery more than offset recent market turmoil," said Takeshi Minami, chief economist as Norinchukin Research Institute, in Tokyo.
The survey is conducted four times a year, for each fiscal quarter.

Japanese equities and shares rose on the news, as the TPX index hit a three month high of 1,150.70 at market close in Toyko, up 1.5 percent.
The Nikkei also rallied on the survey, which hit a high of 1320.50 at 11:20a.m. in Toyko.
Prime Minister Abe and his cabinet have (maybe quixotically) set out for the Nikkei to climb to 18,000 by the end of the year. 
The 'Abenomics' policy of aggressive monetary stimulus and spending seems to have taken off in the world's third largest economy, which has seen the economy strengthen considerably since Shinzo Abe took office in December.
The 'third arrow' of 'Abenomics' was announced early in June, in which Japan would raise incomes by 3 percent each year and set up a special economic zone to boost foreign investment.
Japan's most pressing economic woe may lie far from 'Abenomics' or internal monetary policy, in China. The slowdown in neighboring China could hamper the recent economic successes Japan has achieved.