Steel demand to melt down after strong recovery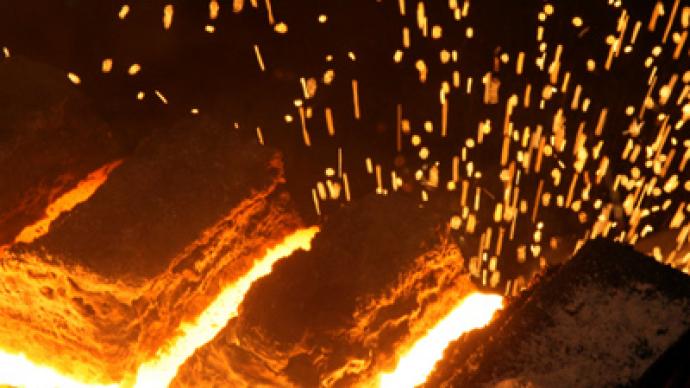 A strong recovery in consumption and manufacturing has helped the Russian steel sector to grow but the long term growth will depend on global market conditions.
"We estimate 12% year on year growth for domestic steel consumption in 2011F, compared with average global growth of 6% year on year in 2011F, according to the World Steel Association," says Maxim Matveev, CFA at ING bank.
The latest Fitch agency said in a new report that the main steel consuming sectors in Russia underpin growth for steel products over the last 9 months.
"The production of passenger cars increased during 9M2011 by 54% to 1.266 million cars, and production of steel pipes increased by 18% to 7.7 million tonnes. Residential construction has also intensified after three years of stagnation – during 9M11 approximately 33.8 million sq. metres of residential housing were built, which is 3% higher than in the sameperiod of the last year."
Experts from Fitch Ratings believe factors driving domestic demand are becoming more important for Russian steel producers.
"Demand for residential housing is backed by an increase in real disposable income for Russian households of more than 50% over the past five years, as well as the development of mortgage lending."
Matveev adds that Russian and CIS steel markets' strong growth will continue.
"We consider exposure to the region to be beneficial for Russian steel producers."
However, the global steel sector slowdown contributed to a decrease in Russian steel product export. According to Alexei Morozov, head of a UBS analytical group, as raw material prices fell on the back of demand shortfall, "the market participants reduced new orders, turning to sale of procured stocks in anticipation of the market getting back to higher pricing and active demand."
HSBC analysts also add that in the 3Q the rate of expansion in output was weak, "partly reflected by external weakness such as insignificant growth of new orders from export markets, and lackluster domestic demand."
Meanwhile, HSBC report reads that at the start of 4Q the manufacturing business climate has slightly improved," a resumption in new order growth and growth of output due to clearance of existing workloads supported Manufacturing PMI."
Alexei Morozov predicts that by the year end, "metal traders will restart stock procurement, as according to past experience, stocks will deplete in two months and traders will have to make new orders to refill them."
Nevertheless, Maxim Matveev, CFA at ING bank, says the negative oil price forecast will cut back raw material prices and may partly offset new order submission
"Following our revisions for oil price forecasts [revised down from an average of $111/bbl to $96/bbl in 2012F], we now expect average export HRC [hot rolled coil] prices to decline 7% year on year, from $700 per tonne in 2011F to $650 per tonne."
Above all, the morose global economic environment will continue to prevent high growth momentum, says Alexei Fadyushin, a Director in Fitch's European Industrials team.
"2012 will be a challenging year because of the adverse shift in global economic conditions."
Fadyushin added that the core sectors of steel consumption might reduce output, given lack of demand for their products.
"There are concerns about a possible decrease in demand for budget and ultra-budget cars, mostly produced by Russian automotive manufacturers, in 2012, due to the end of the Russian government's demand-stimulating measures."
On the other hand, the prospect of WTO membership means things could look up, Morozov from UBS concluded.
"I am sure that our geographical advantages and attractive contract conditions will be even more valued after becoming a WTO member. I don't think the lifting of the 5% duty on import will have a negative effect on the domestic steel market, or result in new contract conditions for our current consumers. I expect positive changes in the export structure."