Statoil has second thoughts over Shtokman stake
Published time: 7 Aug, 2012 15:20
Edited time: 7 Aug, 2012 19:30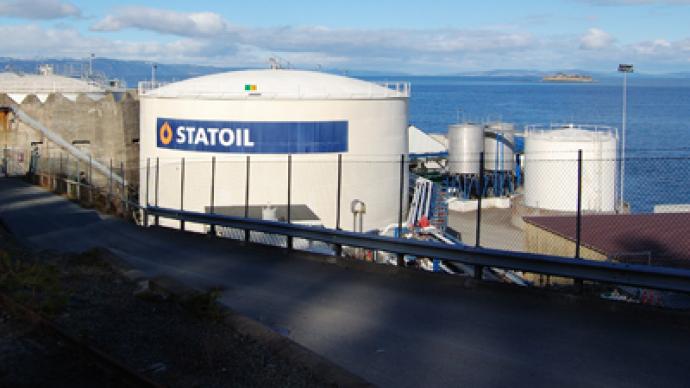 Norway's Statoil has said it was considering options for the Shtokman project, following reports that the Norwegian oil major was pulling out of the giant gas development.
"We have made it quite clear that we need to see considerable improvement in fiscal terms and conditions in order to move forward on Shtokman," Statoil's executive vice president for global exploration, Tim Dodson, told Dow Jones Newswires in London on Tuesday.
"There isn't really any new news on that, so it is status quo if those conditions aren't fulfilled," he said.
 Dodson declined to comment on whether Statoil was looking to sell its stake in the project.
Earlier the Norwegian oil major hinted it may give up its stake in the Shtokman project fearing it may not get a return on its already multi-million investment in the joint venture with Gazprom and France's Total. The three partners have already spent about $1.5 billion on the project's development.

Gazprom, Statoil and Total set up a joint venture, Shtokman Development, in 2008. The trio planned to fund, design and operating facilities of Phase One of the Shtokman gas condensate project.

Gazprom holds a 51% stake in the project with the rest split between France's Total-25% and Statoil-24%.

Statoil has repeatedly said that the project's costs were too high and urged the Russian government to introduce tax breaks.

The development costs have reportedly grown to about $30 billion from the $20 billion originally planned.

Located in the Russian Arctic, the Shtokman gas field is one of the world's largest with reserves of almost 4 trillion cubic meters – enough to meet global demand for about a year.

It requires high costs and tremendously advanced technology due to the Arctic's extremely cold temperatures.

By pulling out of the Stockman venture Statoil risks losing about $400mln it had already invested in the project.

Analysts say Statoil's exit from Shtokman will not be critical for Gazprom.

"It's a huge gas reserve and very important for Gazprom as its main source of gas." Natalya Poskrebysheva from " Metropol" told RT. " Besides, with the economic crisis in Europe, Gazprom is not in a hurry to make decisions."

However many say Royal Dutch Shell may join the project if  Statoil decides to leave, as Gazprom attempts to speed up the development delayed by years of talks over financing

It remains unclear what will happen with Total, the third SDAG partner. The French oil major is reportedly still interested in the project with Gazprom.