Market rollercoaster puts Russian state companies sale on hold
Published time: 21 Nov, 2011 14:59
Edited time: 21 Nov, 2011 18:59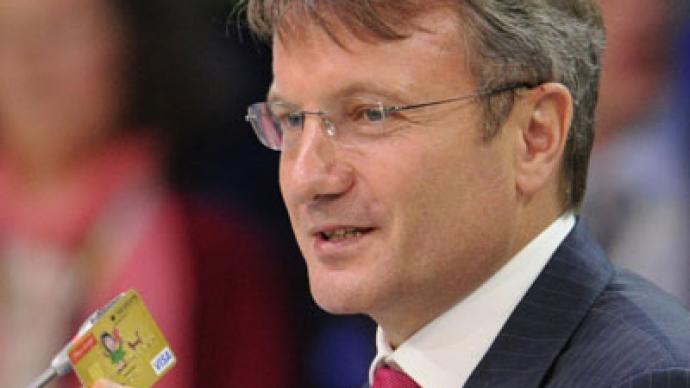 The brakes are being put on Russia's ambitious plans to privatise around 50 state owned companies. Part of privatisations in Rosneft, INTER RAO, VTB, Sberbank, Sovcomflot, and Sheremetyevo Airport are being delayed due to economic volatility.
­Poor market conditions have led to the cancellation of the 7.58% sale in Sberbank. The Head of Sberbank, German Gref says he is not aware of new dates for privatization. "If the aim is to get more money then there are still ways to work into the projected dates of privatization and sell at a reasonable price. But if the main purpose is related to institutional improvement which means growth of companies efficiency and competition on the market than it should not stick with state income from it."

Previously  Gref has suggested the privatization of Sberbank will take place as soon as the share price reaches 100 roubles. Sberbank's shares are trading just under 78 roubles at the moment.

According to the Komersant Daily Prime Minister Putin has signed a resolution to postpone the privatisations until the share prices stabilise. The delay has been proposed by Deputy Prime Minister, Igor Sechin's so the companies would not be adversely affected by their privatisations.

Alexei Kudrin, the former Finance Minister, was strongly supporting the idea of a gradual privatisation process which should stick with the needs of the state budget. "In the next three years we'd better hold off on the main part of state privatization, we should prepare the markets, improve the quality of our assets and increase the companies' capitalization, then offer when the price is right."

The Ministry of Economic Development expected the budget to grow by 1 trillion roubles by 2014 after state privatisation.
Meanwhile, Presidential Aide, Arkadiy Dvorkovich, says the growth of tax payments by 5% could help to fuel up the budget by 1 trillion roubles and reduce shortages of pension and other extra-budgetary funds.

Nikita Ignatenko from InvestCafe says money from privatisation should not depend on state desire to fill holes in its budget.

"First of all it is a way to boost local economy and increase the attractiveness of the state assets rather than a way to earn money."

Oleg Shagov analyst at Promsvyazbank, believes there are several other options. "Almost all companies are trading low on the markets due to economic volatility. However, since several major state companies are showing positive financial results they can afford acquisition of state shares and offer them inside the company, notably, to its top management in a form of bonuses instead of money or use a scheme of priority option to buy state shares. This will provide for accomplishment of the state privatization plan and increase companies' efficiency keeping its integrity."

He added that another option to conduct privatisations benefiting the state is to offer convertible bonds with an option of exchanging them for shares.

Denis Nikitas, Chief Editor at Portfel', business magazine, says growth of competition should be the main reason of privatization. "Whether the government will gain or loose from it given unfavourable market conditions I am sure that the economy is effective only when there is enough competition in the market."