Sochi Olympic debt 'manageable' - Fitch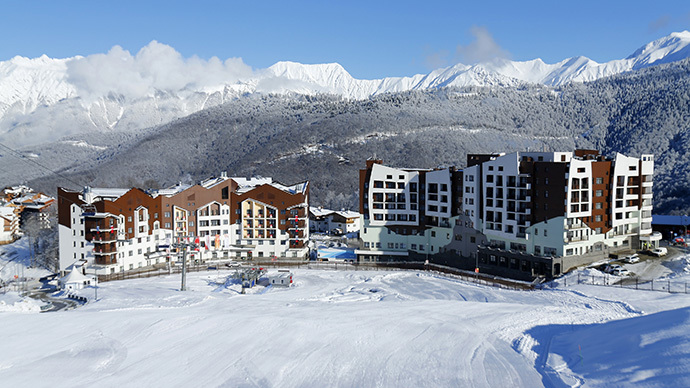 Debt created by the Sochi 2014 Olympics will be "manageable" for the Russian Krasnodar region, Fitch Ratings wrote in a note Wednesday. Financial risk for the region will be reduced by heavy government funding and high return on investment.
The Krasnodar economy is "well diversified and there is a steady flow of funding from the federal government," the ratings agency said in a statement.
Olympic Committee members first estimated the Olympics would cost around $10 billion, but the debt has grown because investors are certain they will be paid back by the federal government. According to Igor Nikolaev, director of strategic analysis at PKF, the Olympics are a "holy" event so the state will help to pay off Olympic debt.
Many of Russia's state-owned banks are providing loans to Olympic projects, which in Fitch's eyes, makes the debt less risky. Russia's fourth largest bank, Vnesheconombank (VEB) is lending $6.7 billion to finance projects, or 12 percent of its loan portfolio. Another measure which will make Olympic debt more manageable is Russia's rainy-day fund, the National Welfare Fund, as it will likely convert about $6 billion (200 billion rubles) in deposits held at the bank into long-term subordinated securities.
"Costs associated with the sports facilities totaled $6.5 billion (214 billion rubles). Overall costs, including infrastructure total $51 billion (1.5 trillion rubles), an estimate of the Ministry for Regional Development," Nikolaev told RT.
"We believe the risks from VEB's Winter Olympics infrastructure loans should largely be offset by funding from the authorities," said Fitch.
"Krasnodar Region's strong, diversified economy provides a broad tax base and growing tax revenue flows. We believe it will continue to benefit from its strong industrial base, transport sector and natural resource endowment," Fitch said.
The Russian government is funding 58 percent of the region's debt. Construction of Olympic facilities and infrastructure in Sochi made debt soar from 3 percent in 2009 to 47 percent of the region's revenue in 2013.
"Certainly, revenue from this infrastructure will have a positive affect on regional development," said Nikolaev.
Russia's nearly $2 trillion economy now ranks the eighth largest in the world, with growth at 1.3 percent in 2013.
Vancouver Canada was left with $1 billion in debt after the 2010 Winter Games.
Sochi, the resort town
Situated on the Black Sea in southern Russia, the Krasnodar region has been a domestic vacation hotspot since Soviet planners designed it as Russia's premier resort town, which dates back to 1920s.
The 350,000-resident city has had a complete makeover. More than 85 percent of the Sochi infrastructure had to be built from scratch, according to Jean-Claude Killy, chair of the International Olympic Committee's coordination commission for the Games.
In total, 378 federal and 46 regional facilities are being built for the Sochi Olympics. Of these, only 13 are sports-related; the others are linked to infrastructure and accommodation.
Unlike recent hosts Beijing, London, and Vancouver, the development of Sochi was still in its nascent stage when it was selected to host the Games in the summer of 2007. Built from the ground up, Sochi has transformed from a seaside town with one main road to a city that is going to host one of the world's largest winter sporting events.
In the case of Sochi, there were many more indirect costs, with a need for infrastructure projects in the region unrelated to hosting the games in February.
The Olympics are bringing a much needed facelift to the mediocre ski resorts in Krasnaya Polyana, which will host the Mountain Cluster events like biathlon, skiing, and snowboarding. A personal favorite ski destination of the president, it hardly attracted an international crowd, let alone a domestic one.
Slope traffic is set to increase with newer facilities and services, as well as the railway that connects to downtown Sochi. Before, ski enthusiasts had to brave the winding mountain roads in a taxi to reach the ski areas. Nikolaev is skeptical the sub-tropic mountain resort can become a worldwide destination, but is confident it will become a main regional training hub for athletes.
Salt Lake City's alpine makeover boosted ski resort numbers by 37 percent in the six years following the 2002 games, transforming it into a billion-dollar industry. Drawing tourists to Sochi -both foreign and domestic- is a goal of the Games.
"The infrastructure for the games should also boost the accessibility of the region's seaside and ski resorts. However, maintenance costs for these facilities are likely to add to the region's budget expenses in the medium term," the note says.
According to Deputy Prime Minister and Olympic Chairman Dmitry Kozak, investment in the Games was split fifty-fifty between state-funding and private investment. Hotel and power generation facility contracts were handed out to private companies, and rail and road transport was delegated to Russian Railways, the state-owned railway group.
"For each facility constructed using state funds, a post-Olympic purpose has been assigned for it," Kozak said, adding, "with regard to private investors, all construction projects will remain under their ownership and they will operate them using their own discretion on the basis of authorized use on the respective site."
You can share this story on social media: