Siemens Power Machine agreement to see JV and stake sale
Published time: 2 Aug, 2011 07:48
Edited time: 2 Aug, 2011 13:40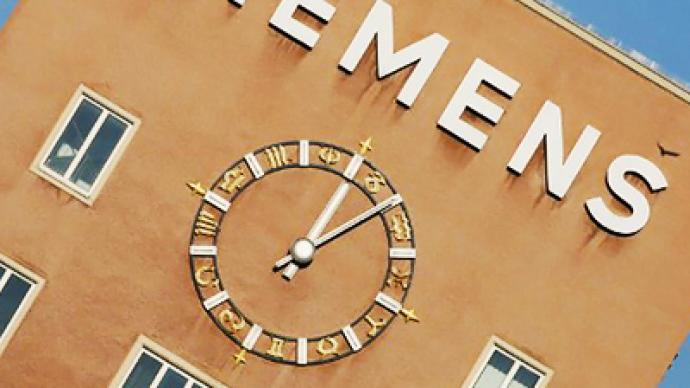 An agreement to setup a gas turbine joint venture between Russian company Power Machines and German industrial giant Siemens will also see Siemens sell out its 25% stake to majority Power Machines shareholder Highstat, owned by Alexei Mordashov.
Under an agreement signed on 28 July 2011 by Michael Suess, CEO of Siemens Energy Sector and Igor Kostin, General Director of Power Machines OJSC, the gas turbine joint venture will be launched after gaining regulatory approval, within months.
Siemens will hold a 65% stake in the venture, which will be located in St. Petersburg, with Michael Suss, CEO of Siemens Energy Sector, saying the JV will take cooperation between Siemens and Power Machines to a new level.
"Creating a joint venture is a brand new stage of strategic partnership between Power Machines and Siemens. It'll be using the latest constructor developments and technology of Siemens and broad production capacity of Power Machines."
Suss also said the new company would provide for growing needs in the whole CIS,stressing the importance of a Russian market for Siemens.
"With the new joint venture we will be serving the growing market for gas turbines, gas power plants and combined cycle power plantsin the Commonwealth ofIndependent States. In Russia we invest to create production capacity for the state of the art power plants. We intend to make our own contribution to modernization of energy sector in the region, and at the same time strengthen our position as a market leader. It's very important for the company to operate in Russia as a local player."
Power Machines' General Director Igor Kostin said the market for turbines is expected to grow.
"In the mid – term an order book of Power Machines is forecast to grow. This will become possible due to the growth of other equipment deliveries for the JV, which is a part of a steam – gas cycle – steam turbines and turbo-generator."
The agreement will also see Siemens sell its 25% plus one share stake in Power Machines to Highstat, which already has a 70% stake in the company.The price of the transaction hasn't been disclosed, but Troika Dialog analysts, Mikhail Ganelin and Ivan Belyaev, expecting Highstat to move to buyout remaining minority shareholders, and take the company private.
"As a result of the deal, Highstat will increase its stake to 95.06% and will be obliged to make a buyout offer to minority shareholders based on the price of the deal with Siemens or the 6m weighted average market price. A squeeze-out would likely follow. Whether investors should buy on the news is complicated. When Highstat acquired a controlling stake (55%) in Power Machines in 2007, the mandatory buyout offer came only three years later, in July 2010, at R7.00 per share (based on the 6m weighted average price). However, this time it seems that it would be in Highstat's interests to consolidate 100% in Power Machines quickly, delist it and take it private.
Siemens could sell its stake at a premium to the current price given that Power Machines is trading at a 2011E EV/EBITDA of around 5.0 (i.e. Siemens is trading at 7.5). But at this stage, it remains guesswork as to what price Siemens will sell its stake to Highstat."