Scottish Power to pay $13.7 million fine for bad sales
Published time: 22 Oct, 2013 13:12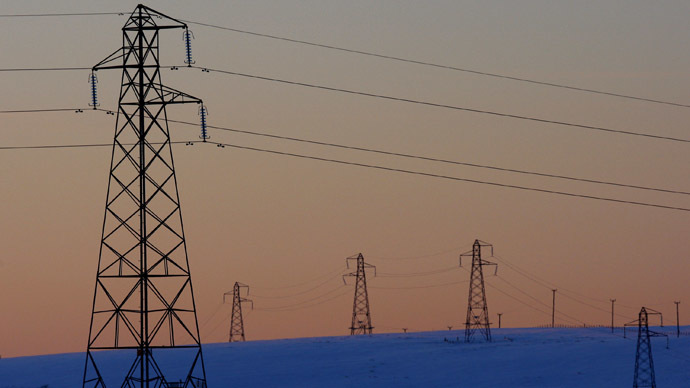 One of the UK's so-called 'Big 6'energy companies, which hold a monopoly over electricity and gas pricing, Scottish Power will pay $13.7 million (£8.5 million) out to customers after Britain's energy watchdog exposed sneaky sales tactics.
Energy regulator Ofgem slapped Scottish Power (SP); part of Spain's Basque-based utility Iberdrola, with the fine on Tuesday after it reported findings the company didn't properly monitor door-to-door and telephone sales agents, Reuters report.
The information given to customers was "inaccurate" and "unreliable" and therefore a breach of its marketing licensing conditions.

Ofgem said each 'vulnerable' customer will receive a payment of about $80 (£50) and a separate  $1.6 million (£1 million) compensation fund will be set up to reimburse customers who believe they were victim to sales misinformation.

Failure to properly train sales employees led to a gap in information to customers trying to decide to switch to SP or stay with their current energy supplier.

Poor sales training "resulted in misleading claims being made during face to face and telesales marketing activities", Ofgem said.

"We accept Ofgem's findings and we apologise unreservedly to those customers affected," Scottish Power's Chief Executive of Energy Retail and Generation, Neil Clitheroe, said.
SP was also fined $1.6 million as a nominal penalty, which could have been higher if they hadn't readily admitted their mistakes and to reimburse customers.

Ofgem's investigation of SP began in September 2010, which prompted the other big energy companies to ditch their door-to-door sales strategy.

Customers, however, are worried the company's legal troubles could be passed onto them. Sarah Harrison, a senior partner at Ofgem, said SP would be 'foolhardy' to try and pass the cost of the fine onto customers, who are already feeling the pinch of high energy bills. (the link)
"Any company that finds itself in a position where it has failed its customers, and where it is told by Ofgem that it has got to repay money to its customers, would be really foolhardy to pass that cost back to customers," Harrison said on BBC Today.

The fine is lower than the $17 million (£10.5 million) fine Scottish Power, along with Southern Energy, were served earlier this year over sketchy sales practices. EDF, another of the 'Big 6' paid out more than $7 million (£4.5m) in customer compensation.

Heated prices
According to industry regulator Ofgem, energy prices have soared 24 percent over the last 4 years. The average fuel bill covering both gas and electricity- is $2,125 (£1,315) per household.

SSE Plc has said it plans to raise average household energy prices by 8.2 percent and RWE Npower raised its tariffs by 10.4 percent. 

Bosses from the 'Big 6' have come under fire over prices and have been summoned to give evidence about raising energy prices to a committee of MP's in Parliament on Tuesday, October 29.

Household energy prices have soared under the tenure of Prime Minister David Cameron's coalition government. He insists the prices are reflective of markets and are cyclical.

UK households are currently paying the lowest retail gas and electricity price among the EU 15.

The Labour party has taken up high energy prices as a campaign peg, and is appealing to voters by promising a 20-month freeze on prices if they carry the 2015 election. Cameron maintains it's impossible for a government to fully control energy bills, as they are exposed to market pricing.