Samsung shares see a sell-off after patent trial defeat
Published time: 27 Aug, 2012 09:57
Edited time: 27 Aug, 2012 13:58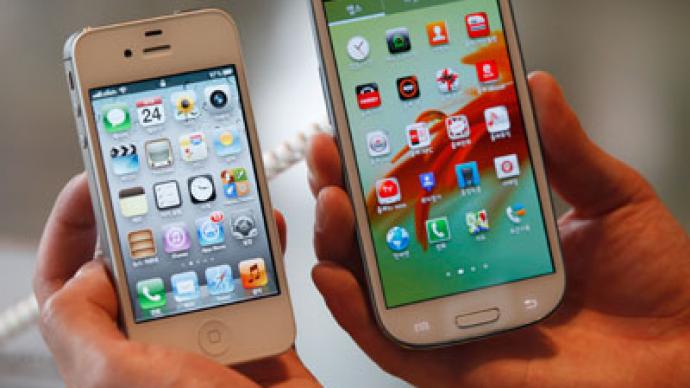 Samsung Electronics saw $12 billion wiped off its market value following a massive sell-off as investors digested the company's defeat to rival Apple in a US courtroom.
Shares in South Korean Samsung – the world's biggest technology firm by revenue – dived by as much as 8%, the biggest one-day drop in nearly four years.
In the most closely watched patent squabble in years, US jurors passed a sweeping victory to Apple on Friday, awarding the Silicon Valley company $1.05 billion in damages and providing ammunition for more legal attacks on Apple's mobile-device rivals. Jurors found that Samsung infringed six of seven patents contested in the case, copying critical features of the popular iPhone and iPad, and it could now be banned from selling its key products.
There was only one patent on which the jury declined to side with Apple – covering design elements on the iPad, contradicting the judge in the case who, only two months earlier, had sided with Apple over allegations the Galaxy Tab 10.1 tablet copied Apple's design.
US District Judge Lucy Koh issued a pre-trial order banning Samsung from selling the Galaxy Tab 10.1 in the US according to a Reuters report. Late on Sunday, Samsung asked Koh to dissolve the order, due to the jury's finding, saying there was no proper basis for maintaining the injunction.
Samsung says it will contest the verdict which was announced after less than three days of deliberations. It increases uncertainty over the South Korean manufacturer's future products.
Simultaneously Apple's landslide victory is likely to strengthen the US firm's dominant position on the booming tablet computers market and is likely to help push aside another rival -Google whose Android software powers the Samsung products that were found to infringe Apple patents.
The phone and tablet business accounts for around 70 % of earnings for Samsung which made a net profit of $4.5 billion in the April-June quarter seeing a 48% rise in profit from a year earlier.