Apple most valuable company in the world, but not in history
Published time: 21 Aug, 2012 09:52
Edited time: 27 Aug, 2012 18:17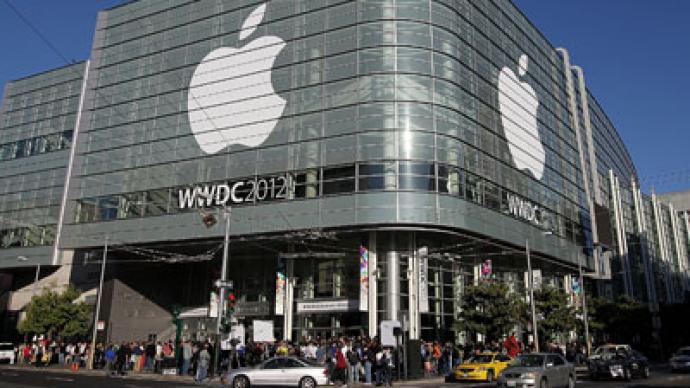 Shares of Apple Inc. hit record levels Monday, making Apple the most valuable company to date with a market cap of $623.5 billion. But it's far behind the historic winner IBM with a 1967 value of $1.3 trillion, if adjusted for inflation.
­Apple shares rallied 2.6% Monday to $665.15 per share, as investors bet on the latest iPhone 5, which is reportedly due September 12. The iPhone is the company's most popular product, accounting for more than half of its sales.
Though Apple is the most valued company at the moment, it's not even close to the historic record. IBM had a market capitalization of $192.3 billion in 1967, which is worth about $1.3 trillion today.

Apple's main rival Microsoft Corp. reached its peak cap of $621 billion in December 1999, according to Howard Silverblatt of S&P Dow Jones Indices. It would rise to $853.7 billion, if its then value was to be adjusted for inflation, according to the US Bureau of Labor Statistics' inflation-calculator.

However, the iPhone maker has left far behind the major Russian companies in terms of market cap: it is six times bigger than Russia's largest gas producer Gazprom ($114 billion) and 10 times more than oil major Rosneft ($64 billion).

Apple's shares have risen 64% in 2012 since the death of its co-founder Steve Jobs in October 2011. The company's shares fell in July as sales figures failed to meet expectations, even as profits rose 21% year-on-year to $8.8 billion. However, the stock rebounded on rumors that Apple plans to launch a smaller version of the iPad and is close to presenting its first TV set.

Some experts believe Apple could become the most valuable company in the world if it keeps on growing. In February, The New York Times estimated that at a market capitalization of $500 billion, Apple's would reach a cap of $3 trillion by 2020. It is bigger than the 2011 gross domestic product of France or Brazil, according to the Times.
But some analysts were more pessimistic, saying the company's rally won't last long as it would fail to make breakthrough products after Steve Jobs death.