Russian stocks abroad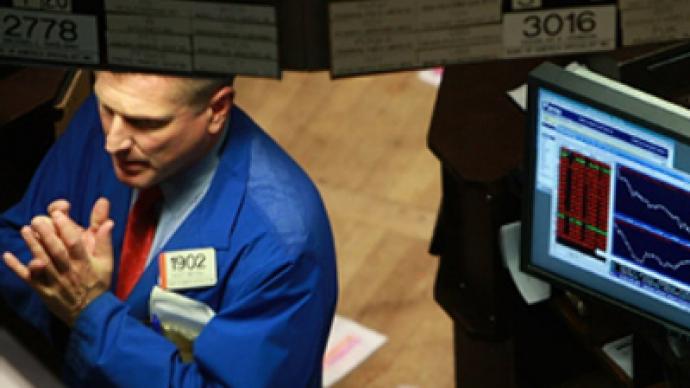 The calm before the storm – Monday's market holiday in the U.S. and its accompanying low volumes in the rest of the world belied the kind of turbulence later on that hadn't been seen for some weeks.
By the end of the day, a flow of poor economic data from both inside Russia and around the world had already started – industrial output in Russia slumped 16% year-on-year in January, figures showed, Japanese GDP fell 12%, and towards the end of the week, poor U.S. unemployment figures and mid-Atlantic industrial activity added to the gloom. That resulted in the first suspensions of trading on Moscow's RTS and MICEX since the beginning of the year, and sent investors running to London and New York to dump their stock.
Rouble roundabout
A mixed week for the rouble. Poor industrial output figures for Russia on Monday pushed the currency down against the dollar, and it kept on falling, to hit an 11-year low against the greenback on Wednesday. But the end of the week saw pressure ease, as banks converted their foreign currency into roubles to make tax payments on behalf of their clients. On Thursday, the rouble strengthened by as much as 1.6%, and that rise is likely to continue into next week, as more taxes fall due.
Banking blues, again
That rouble instability considerably weakened banks, and other newsflow came into play in the sector too. Finance minister Alexey Kudrin announced the government was considering additional capital infusions to support Russian banks. Any injection by the government would dilute shareholders' stakes, and there was also an implication that the state, not banks themselves, would decide on the nature and size of any support. VTB dropped to a record low of $1.10 in London as Russian overdue home loans jumped to 11.4% of all mortgages held by the Federal Mortgage Agency. Shockwaves reverberated through the wider banking sector when Moody's said it might downgrade foreign banks with subsidiaries in Eastern Europe, as the regions' economies slow. That all left VTB down 27% on the week.
Drilling for profit
Investors in Russian oil stocks would have done well to heed the advice of UralSib's Chris Weafer at the beginning of the week, and take profits in Russian oil stocks. Those who didn't will have watched in dismay as Brent and Nymex crude lost ground on falling demand and poor economic data, although it did pick up slightly towards the end of the week. After a recent rally, Lukoil, Surgutneftegas and Rosneft were off between 17 and 22.5%. Oddly, a slightly better performer was was AIM listed Sibir Energy, down only 2.5% for the week. Trading in its shares was suspended after the company revealed that key shareholder Shalva Chigirinsky owed the company $325 million, rather than the $115 million it indicated in early February, and that the shareholder meeting slotted in for February 27 was now being postponed indefinitely while Sibir worked out how it got into this predicament and what on earth it was planning to do to get out of it.
The Golden Egg
Gold bugs had a week to remember with the lustrous metal powering to a high of above $1000 an ounce on Friday, with silver higher too. A weaker rouble also benefitted Russian gold miners at the beginning of the week, and Polyus Gold ended 16% higher. Polymetal rose 14%, having timed to perfection the announcement of an increase in its reserves by 1.6 million gold ounces. That came out with gold close enough to kiss the $1000 an ounce mark on Friday afternoon. Going forward, analysts are expecting a retracement in the short term, although a range of forecasts see gold breaking through all time highs over the longer term.
Heavy metal
A poor performance from industrial metals this week. The decline in industrial output in Russia hit them hard at the beginning of the period, and the price of nickel fell to its lowest this year, within eyeballing distance of a level that would make Norilsk Nickel unprofitable. The company ended the week 32% down. Investors tentatively returned to steel at the end of the week, following a recent profit-taking induced sell-off. But Evraz, Severstal and Mechel (as of Friday 2000 Moscow time) were still between 13 and 16% down.
Upwardly mobile
A word of encouragement to MTS from Goldman Sachs this week – the bank said shares in Russia's biggest mobile phone company have "limited downside" because spending on mobiles probably won't fall in local currency terms in Russia and the CIS. MTS itself lost 4.5% on the week, and Vimpelcom ended up half a percent New York to 2000 Moscow time on Friday.
You can share this story on social media: