Russian stock market lost almost $9 billion over Navalny verdict
The Moscow exchange lost $8.6 billion following the momentous drops stoked by the 5-year prison sentence of opposition leader Aleksey Navalny, who was found guilty of embezzling nearly $500,000 in state funds, and is now released pending appeal.
Click here to follow live updates on Navalny

According to the Moscow Exchange data, the capitalization of the Russian stock market dropped from $614 billion to $605.7 billion between 10:00 and 14:17 on Thursday, Forbes reports.

The Navalny verdict was delivered around 12:30 MST, and Moscow's main indices simultaneously sank. The MICEX index fell by 1.32 percent, and the RTS dollar-based index managed to fall by 1.52 percent.
Therefore the 'Navalny damage' can be calculated near the $9 billion mark, if analyzed as an isolated factor.

At 12:56 pm MST, minutes after the verdict was delivered, Moscow's main index MICEX dipped 1.04 percent to 1,416.97. All indexes remain in the red with the exception of the RTS Siberia Index, which is has made a collective gain of 1.06 percent since opening this morning. 

About 24 hours later, the Kirov court released Navalny on bail and will allow him to participate in the Moscow mayoral elections.

Russian floors showed slight easing, but five out of ten indices are still trading in the red as of 13:25 MST Friday. 
"The fall of the Russian stock indexes, no doubt due to a conviction Navalny, a person in which the West sees the most brilliant criticism of the government," Gregory Birge, analytical co-director of Investkafe commented.
The sentencing of Navalny has raised doubts among foreign investors, as the numbers show traders eager to sell-off Russian equities in exchange for other emerging markets.

It is rare for a political event to carry such weight in market activity, especially the case of Navalny, whose fate was announced by the Kirov court on July 5. 
The market's volatility to the Navalny case is alarming for many analysts, as it reveals the link between financial instability and politics, a turn-off for many investors.

The day Russia's former richest man and Putin foe Mikhail Khodorkovsky was arrested, indices fell by 10 percent and continued a four week drain of 20 percent.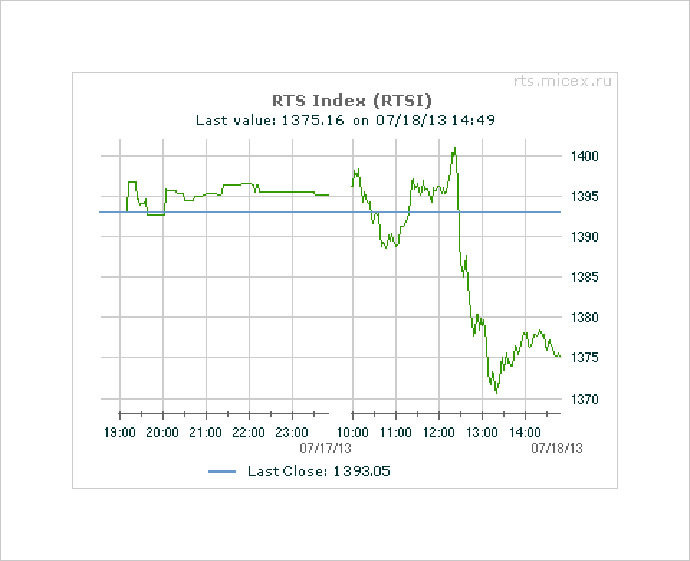 Russia's market heavyweights have all posted staggering losses. Sberbank, the country's largest lender, dropped 2.61 points down 2.58 percent, and VTB, the second largest bank, closed with a 2.56 percent loss with shares valued at 4.67 kopeks.

Gazprom, the state-owned oil giant lost 2.17 percent and closed trading at 129.25 rubles, and Rosneft, the world's largest publicly traded oil company, is down 1.32 percent.

Lukoil, the largest private oil company, dropped 0.92 percent but is nearing neutral territory at a 0.06 loss at 16:20 MST.

Crude oil, Russia's leading export, dropped 0.20 percent to $106.28 in New York. Brent Crude oil dropped 0.46 percent to $108.11. 
Russian shares hit a four-week low and the ruble has dropped 0.29 percent since the judge handed down the sentence.

The accused denies any wrongdoing and has repeatedly described the case as 'politically motivated' and  retaliation for organizing mass demonstrations against Vladimir Putin in 2011.
The court found Navalny, and Peter Ofitserov, guilty of embezzling roughly $500,000 by buying 10,000 cubic meters of lumber below market value from Kirovles company between May and September 2009. 

Putin has led a very public campaign to 'de-offshore' Russia's wealth, and to keep investment inside the Federation, and not in offshore investments. In 2012, an estimated $56 billion in capital fled the border, as investors, both foreign and Russian, looked for 'safer' investment climates. Many of the transactions were illegal transfers of money. 
Wealthy Russians stash their wealth in tax havens around the world. Minister Arkady Dvorkovich believes at one point there was over $30 billion in Russian holdings in Cyprus.

Navalny's conviction is "another negative headline for Russia, another reason why funds will hold back and locals will continue to stash money offshore," Tim Ash, head of emerging market research at Standard Bank Group, told Bloomberg.

You can share this story on social media: