Russian Far East needs $159 bn for development
Published time: 20 Nov, 2012 11:27
Edited time: 20 Nov, 2012 15:27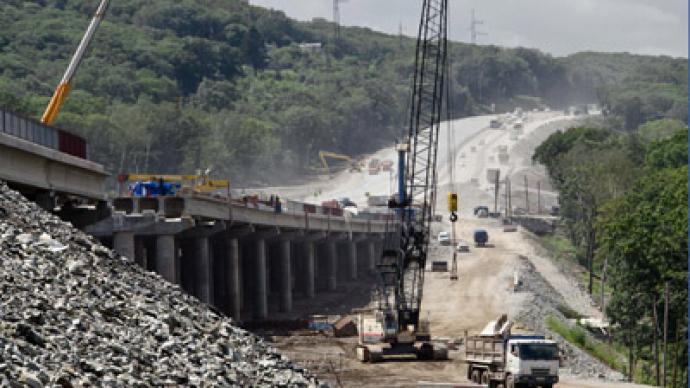 The development of the Russian Far East could cost as much as a half of the country's 11.6trln roubles ($370bn) 2013 budget as the ministry responsible announced its strategy.
­In its report to Vnesheconombank the Ministry of the Development of Russian Far East revealed 92 projects for the region costing about 5trln roubles ($159bn), Vedomsti Daily reports. Many of the infrastructure projects are expected to be funded by the lender's subsidiary "the Fund of the Development of Far Rast and Baikal region".
Among the projects are the reconstruction of the Baikal-Amur Mainline (BAM) railway, the construction of a bridge to Sakhalin Island and renovation of the Trans-Siberian mainline. The BAM reconstruction would be the most expensive project costing 1.1trln ($30bn). Goods traffic is planned to be increased to 52mln tones by 2015 from 10mln in 2011.
It echoes the General Scheme of the Railway Development by 2020 plan proposed by Russian Railroads in April.
The ministry also intends to build two regional power stations in the Jakut Republic and on Sakhalin as well as HPP on Kamchatka Peninsula and TPP in Primorsky Krai, which would be constructed by the end of the year. Among other projects is a pipeline connecting the Jakut Republic and Vladivstok, as well as boosting gas production and gold mining.
However, the development strategy has already sparked some political rather than economic criticism. Critics say the ministry hasn't considered the economic efficiency of the Far East projects. The strategy will be discussed by the State Council next week, while the final list of projects will be approved by Deputy PM Igor Shuvalov.

Meanwhile, the Ministry of Energy proposed to introduce zero taxes for companies developing gas fields in Siberia and the Russian Far East. The companies need benefits to develop gas fields in the Eastern regions because of the lack of infrastructure, according to the ministry. The tax breaks would last for 25 years, it said.