Moscow makeover: Bank of Cyprus elects 6 Russians to board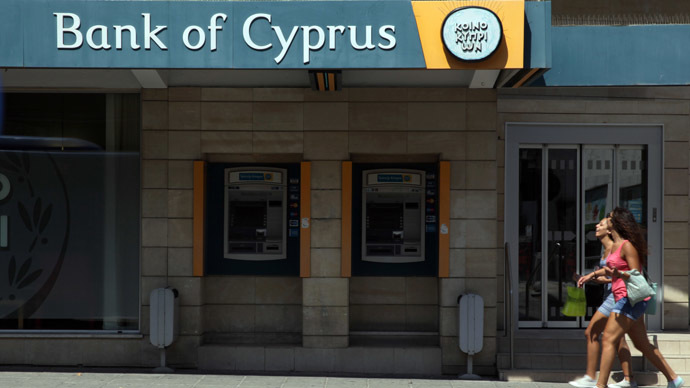 Six Russians were elected to the 16-member board of directors of the Bank of Cyprus. The substantial minority demonstrates the large stake Russia had, and will continue to have, in the Cypriot banking system.
Vladimir Strzhalkovskiy, a former KGB official and Putin ally, was elected by other board members as vice chairman. Strzhalkovskiy is also the former CEO of Russia's Norilsk Nikel, the world's largest nickel and palladium producer.

Other approved nominees are Dmitry Chichikashvili, president of Insigma Group, a Moscow-based construction company, Igor Lazhevsk, Deutche Bank's deputy chairman for Eastern Europe, Anzhelika Anshakova, a board of director of Binbank, Eriskhan Kurazov, General Director at CJSC, a Moscow-based finance group, and Anton Smetanin.
Vladimir Sidorov, the former deputy head of investment at Vneshekonombank, was short-listed, but not elected. Sidorov also runs MCRS Ltd, a lift service in Cyprus.

All Russian board members were nominated by law firms with close ties to Russian and Chinese investors.

The other approved board members are Christis Hassapis, who will serve as the chairman, Costas Hadjipapas, Marios Kalochoritis, Konstantinos Katsaros, Erishkan Kurazov, Adonis Papaconstantinou, Xanthos Vrachas, Marinos Yialelis, Marios Yiannas, Andreas Yiasemides, and  Ioannis Zographakis. None of the nominees were from Western Europe or America.

49 names were submitted for consideration, most of which represented individual or corporate interest.
Interim CEO Christo Sorotos was not appointed to continue his leadership role in the bank's restructuring.

Nominees were mostly major depositors, both domestic and foreign, who held, and lost, billions of dollars when their wealth was used to bail out and save the Cyrpriot banks in March in an unprecedented 'bail-in'.
A general shareholder meeting was held in Nicosia on Tuesday with 53 percent of share capital present (both in person and by proxy), representing about 2.5 billion shares.

Protestors outside of the bank before the general meeting demanded greater transparency, as shares plummeted from nearly 1 euro to 1 cent during the bank's financial restructuring. The bank absorbed the assets of Laiki Bank which was forced to shut down in March.

"We want transparency . . . We want to know on what basis the value of our shares has shrunk by 99 per cent," Stavros Agrotis, a Nicosia stockbroker, said. Some shareholders left the meeting in protest.

President Putin decided against using government funds to bailout Cyprus, but agreed to restructure a 2.5 billion loan issued in 2011.

Cyprus instead turned to the 'Troika' of lenders - which agreed to fund $13 billion (€10 billion) of the island's bailout package on the condition an internal 'hair-cut' was applied- a levy of 47.5 percent on all accounts with over €100,000 in deposits. 

The corporate tax rate in Cyprus is 10 percent, half of Russia's, which made it a useful tax haven for Russian money. Up to $30 billion was deposited in the island's banks.

The strategy to keep funds in Cyprus turned into a billion dollar headache when funds were levied and converted into bank equity, which turned Russian depositors into big shareholders overnight.

You can share this story on social media: