Russian business looks to capitalize on Cyprus bailout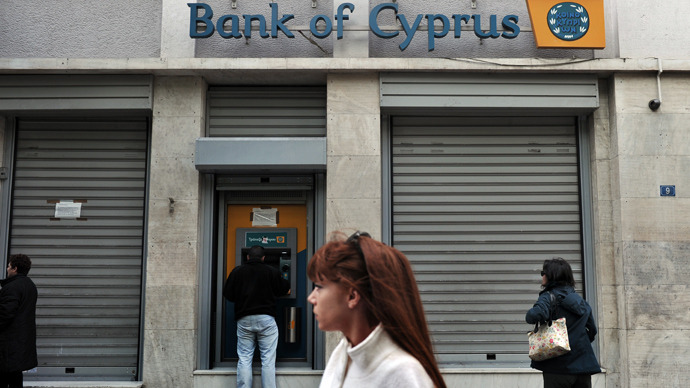 Cyprus's rejection of the European Union's tax levy plan to finance the country's bailout has piqued the interest of Russia's biggest and most important businesses.
The proposed levy put over $31 billion of Russian money at risk of taxation, sent Russian stocks to a three month low on March 18.

Russian depositors would be especially hard hit by any levy, but so would Russian business, as Russia is a major player in the Cyprus banking industry.

According to rating agency Moody's, Russians hold $31 billion in Cyprus banks and could lose more than $3 billion in the levy.  Nearly a third of the money in the Cyprus banking sector is Russian.

After negotiations fell apart at home, Cypriot Finance Minister Michael Sarris jumped on a plane to Moscow and met with his Russian counterpart Anton Siluanov to discuss loan extensions and bailout options. But as of Wednesday the talks hadn't lead to any result yet. Talks will continue on Thursday and Sarris said he will stay in Moscow 'as long as it takes' to strike a deal.
According to Moody's, VTB  group is 'the most exposed' to the credit crisis in Cyprus. VTB's subsidiary, Russian Commerce Bank, operates in Cyprus and is one of few to possess a full banking license. However the bank is an active member of the deposit insurance system of Cyprus and VTB has only 3% of its capital tied up in Cyprus, which, according to First Deputy Chief Executive Officer Vasily Titov is 'insignificant' and should not be 'dramatized', as he told reporters in Moscow on Wednesday.

But whatever decision is taken on the fate of deposits, held on the island, Russian Commerce Bank is obviously going to change its long-term development strategy and re-evaluate the risks, but at the same time maintain current business partners and clients loyal to the bank, Ekaterina Kondrashova from Investcafe independent analytical agency said.

"I would like to underline, that the Cypriot subsidiary of VTB provides financing for export-import operations by Russian and foreign companies, including pre-export and post-export financing and provides documentary and forfeiting services. It also operates on the stock market, carries out credit operations and provides private banking service," Kondrashova noted.


Not the tax haven imagined

Foreigners hold almost 40% of the €68 billion in Cypriot banks, who take advantage of the island's low tax rates and light regulation. The corporate tax rate in Cyprus is 10%, half of Russia's, which can make it deceptively attractive.

The recent turmoil in Cyprus has led other Russian business analysts to distance themselves from the economic woes of Cyprus, and are not eagerly jumping in to save the day.

"It shows those Russians who keep their accounts in Cyprus that it's not a heaven, it's a hell. It will encourage a lot of Russian companies to concentrate their resources in Moscow," Sergey Cheremin, head of Moscow's department for economic and international relations told Bloomberg.

Prominent independent financial advisor and author Patrick Young weighs in, saying that "larger savers and corporations who found Cyprus an attractive climate for business have already set their eyes on other financial centers."

"Dubai and Singapore are early leaders - mercantile and politically stable but without the dreadful tinge of desperation which now hangs over the Eurozone. The deficit of trust is only exacerbated when listening to the cowardly howls from finance ministers that they never supported a 'haircut' of savers' funds in Cyprus. If the Eurozone finance ministers didn't make this decision while locked in conference for days, then who did?" Young wrote in his RT blog.


Help from Moscow?
Andreas Charalambous, a senior finance ministry official in Cyprus, said Nicosia wanted to "explore other avenues of financing to lessen the burden" extraordinary measures, such as a revised deposit levy. One option would be for Russia's Gazprombank, the lending arm of Russia's energy giant, to take over and recapitalise Laiki, the second-largest Cypriot bank, the Financial Times reported Wednesday. 
The second options came to light when Russia's giant energy company Gazprom allegedly made a private bailout offer to Cyprus according to the New York Times on Wednesday. The island economy can raise money needed to keep it afloat by selling Gazprom exploration rights to offshore gas deposits in the Mediterranean Sea. Gazprom however refused to comment on the news or even confirm it made such an offer. Sarris has denied this allegation.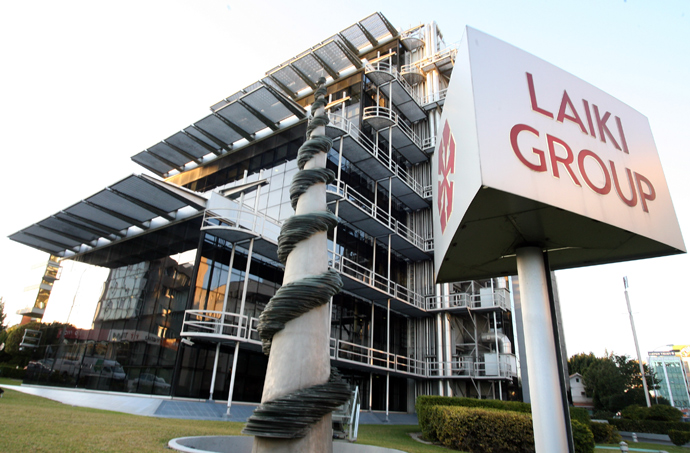 Meanwhile Russian businessman and politician Mikhail Prokhorov views helping Cyprus as an opportunity to further Russian economic interest  and to flex its muscle in the European political ring.

"Now is a chance to demonstrate Russia as a strong player on the world stage," Prokhorov wrote in Vedomosti newspaper on Wednesday. "Russia is a creditor of Cyprus and has sufficient financial capacity to save the financial system of the Cyprus market," Prokhorov said, stressing Cyprus is an important economic partner for Russian business.
Prokhorov wants the Russian business community to present a united message on Cyprus, and to 'ensure stability of the Russian financial system and depositors," referring to the $31 billion Russians hold in Cyprus' banks.
You can share this story on social media: