Cyprus deposit tax shakes markets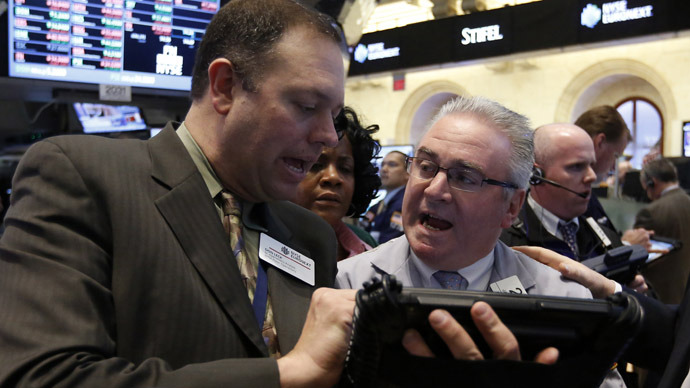 The euro has dived with traders forced to fix sharp losses after the Cyprus government's controversial decision to impose a one-time levy on depositors triggered a major turmoil in the eurozone.
On Monday, the euro slid as low as $1.2888 in early trade, its lowest point since December. Gold, which is seen as a safe haven in troubled times, rose above $1,600 for the first time in more than two weeks.

In the debt markets, the yield on Spain's 10-year government bond – effectively the interest rate – jumped 17 basis points to 5.098%. Yields on 10-year Italian debt rose 13bp to 4.736%.

The Shanghai Composite lost around 1.02% and the Nikkei dropped 2.1% in the morning. The Moscow stock exchange followed the world-wide down trend and lost 2.3% at the opening on Monday.

UK's FTSE100, German DAX and French CAC40 indexes all opened in the red and at the time of writing are losing around 1 %.

The reaction followed Eurozone finance ministers demanded Cypriots pay up to 10% of their bank deposits in exchange for a $13bn bailout. People rushed to cash machines to withdraw their savings in panic. Experts believe that could trigger runs on banks in other eurozone countries.

Cypriot President Nicos Anastasiades says those who keep deposits in Cypriot banks for two years will get half of the value of the levy back in the form of bonds backed by future income from exploiting Cyprus's natural gas deposits.
Cypriot nationals will also get shares in the banks to the equivalent amount of the charge, according to some reports.

Anastasiades stressed he had to choose between the "catastrophic scenario of disorderly bankruptcy or the scenario of a painful but controlled management of the crisis".
Russian President Vladimir Putin criticized the move as unjustified. "While assessing the proposed additional levy on bank accounts in Cyprus, Putin said that such a decision, should it be made, would be unfair, unprofessional and dangerous," Kremlin spokesman Dmitry Peskov told reporters.
Meanwhile, Russian companies keeping their offshore accounts in Cyprus were taken aback after the country's Central Bank ordered all banks to suspend both domestic and international operations.

The Cypriot news' website said it had obtained a confidential Central Bank letter calling on banks to stop all form of payments from their accounts, including those made from one account at a bank to another.
"Perhaps the true reason for this move is the EU's desire to deprive Cyprus of its offshore status and hamper Russian money laundering in the country," economist Sergey Suverov told gazeta.ru.

The Mediterranean island is still the most popular destination for Russian businesses wanting to start offshore companies.  According to the Rosbalt agency, Cyprus-based Vastercroft Ltd owns 70.8% of three iron companies controlled by Roman Abramovich.

Alisher Usmanov's Metalloinvest is allegedly shared by four Cyprus offshore companies -  Gallagher Holdings Ltd (43,7%), SeropaemHoldings (30%), CoalcoMetalistLtd (20%) and Samlnvest (6,3%).

Aleksey Mordashov's Severstal is reportedly owned by AstroshineLtd (20%), Loranel Ltd (20%) and RayglowLtd (10.9%), while almost half of another Russian metal giant Norilsk Nickel belongs to Gershvin lnvestments Corp.Ltd, Bonico Holdings Co Ltd, and Montebella Holdings Ltd.

You can share this story on social media: