Spare a nickel? First Russian billionaire to give away half fortune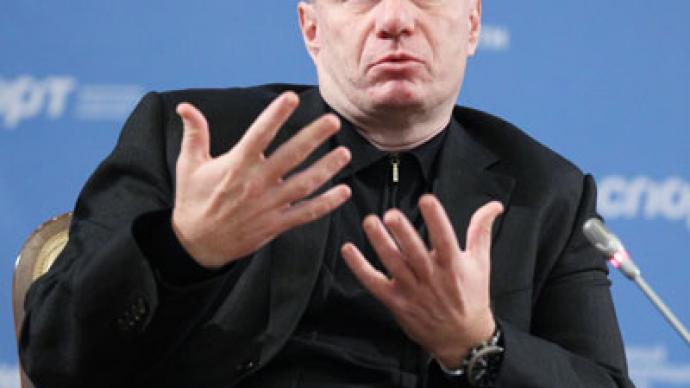 Russian nickel and media mogul Vladimir Potanin has joined the Giving Pledge charity organized by the richest men in the US, as it goes global.
Twelve billionaires from outside of America who have joined the cause include not only the founder of the Interros company and the CEO of Norilsk Nickel from Russia, but also a founder and main owner of EastOne Group Victor Pinchuk. The Giving Pledge initiative was launched by Bill Gates and Warren Buffett in June of 2010 as a program to get the richest people and their families to give at least half of their fortune to charity after their deaths. The number of participants has reached 105 including such famous personalities as Michael Bloomberg, David Rockefeller, George Lucas and others."I genuinely believe that wealth should work for the public good," said Potanin in a letter to the Giving Pledge. "The decision I made is not just an attempt to be remembered as a philanthropist. I also see it as a way to protect my children from the burden of the extreme wealth, which may deprive them of any motivation to achieve anything in life on their own. I also hope that my example will not only tell the world about the rebirth of philanthropy in Russia but will also inspire my compatriots and other people."Vladimir Potanin is already a renowned Russian philanthropist. In 1999 he founded a charity to fund large-scale programs in education and culture. In 2010 he decided to give his capital to charity and now the profits of his companies are partly reinvested in the business and partly financing charities. Vladimir Potanin ranked 9th in the list or Russian billionaires published by CEO magazine on Monday and is worth an estimated $12.3 billion. Some other new names on the list of the Giving Pledge initiative include British entrepreneur Richard Branson; India's software magnate Azim Premji; Chris and Jamie Cooper-Hohn, founders of hedge fund Children's Investment Fund; Australian mining magnate and his wife Andrew and Nicola Forrest; Patrice and Precious Motsepe from South Africa;  German Hasso Plattner; and Malaysian Vincent Tan Chee Yioun.
You can share this story on social media: