'Russia's been 10 years late to WTO'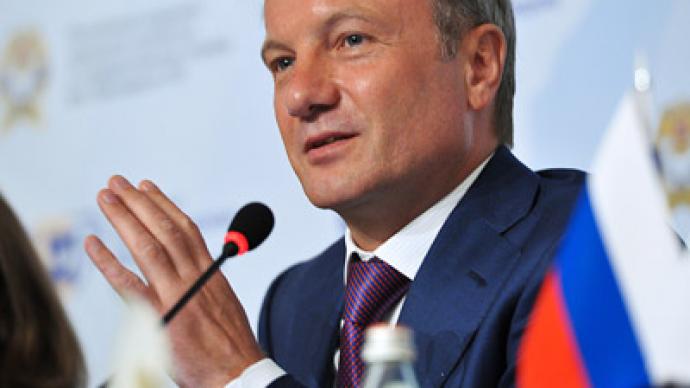 With less than three weeks left until June 15 – the deadline before which the Russian parliament will have to ratify the deal on the country's WTO membership, the CEO of Russia's number one bank says Moscow should have joined the organization long ago.
Sberbank Chief Executive and former economic minister German Gref says "one of the main merits that Russia's WTO accession provides is higher competition on the market. But it's impossible to be competitive without having competition."In an exclusive interview to RT, Gref said that despite Russia's long and thorny way to joining, "the importance of WTO membership shouldn't be exaggerated, particularly in the negative sense. We need to blame external factors for setbacks less, but concentrate more on making our companies and services more competitive."Russia is the largest economy in the world that has yet to join the WTO. Doing so after 18 years of negotiations will require Moscow to further open its market, safeguard intellectual property and investments, and strengthen the rule of law. While Russian authorities anticipate accession, local businesses weigh in the probable losses and benefits they'll see on getting membership. Adding to worries is the time of the entry, as Europe and the US may be close to another recession amid their debt problems. Gref said the situation today differs dramatically from the 2008 crisis. "The private sector is much more prepared for the crisis this time, but there's been a major change of roles. In 2008 it was the government and the budget to face the hit. Now it's the private sector which is ready to face higher market volatility while the state's resources have almost been exhausted. This is both a source of problems, and the main difference from 2008."Earlier in May, newly elected Prime Minister Dmitry Medvedev said Russia would be prepared to support the domestic economy even after entry into the WTO."We will always be able to take steps and make decisions for assisting our economy, our industries and agriculture, even after entry into the WTO," he said, noting "The WTO is an important entity, but we have our interests too."Analysts generally estimate joining the WTO as positive. "Competition is expected to grow, though prices will go down, but customers shouldn't expect quick changes in prices. The transitional period in the WTO will last until 2020," says Ivan Nikolayev from Aton investment group.Russia's new President Vladimir Putin said earlier in May that he was against delaying ratification of the agreement on Russia's accession to the World Trade Organization."We cannot delay that for a year or two," Putin said, adding "that would mean our refusal to join the organization."Dmitry Medvedev echoed his view, saying "I think the time frame will be quite sufficient, because it's five years, and maybe even more, to enable us to get ready properly."