Russia's second largest bank VTB posts record net profit in 2011 ahead of privatization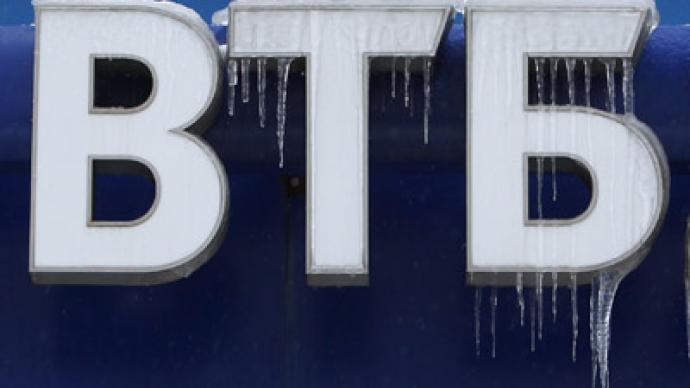 Russia's second largest bank VTB boosted its net profit up to the record high of $3bln roubles in 2011, showing a 65% growth year on year. Despite that the results were below estimations due to the weaker results in 4Q.
Analysts forecast VTB would earn up to $3.176 billion roubles in 2011. "The results could be better, but high volatility in the financial markets affected our results in the fourth quarter," said Herbert Moos, Vice President of VTB. Earlier the bank posted a net profit of $611.3 million in the fourth quarter of 2011, compared to the estimated $683 million.VTB noted that the group's loan portfolio grew 50% last year up to $156 billion, while the volume of corporate loans grew 49.6% to $128.7 billion and consumer credits surged 52.2% to $28.7billion. Meanwhile the amount of non-performing loans dropped to 5.4% from 8.6% in 2010."All three segments, retail, corporate and investment banking showed record numbers this year. If you look at the retail side, retail for the first time crossed $1 billion mark, earned a net profit more than a billion," said Mr Moos."On the corporate side we're overtaking Sberbank to become number one bank for the amount of corporate liabilities," he added. The purchase of Transcreditbank and the Bank of Moscow in 2011 has contributed to the profit growth, according to Mr Moss. The retail client base grew to 14 million after the acquisition. Also Bank of Moscow accounted for 15% of profit, while Transcreditbak made 9%.VTB's shares grew 0.7% on the MICEX after the annual results were issued.VTB plans to undertake the second SPO in 2013, after the state successfully sold a 10% stake in February. Last week VTB completed the buy back of 83.3 billion shares from 74,000 small shareholders who lost money after VTB went public in 2008. The bank spent $389.2 million on the program. In 2007 more than a 100,000 people participated in VTB's IPO which was highly promoted by the state. They bought the shares for more than a billion dollars. The shares were listed at just 0.13 Roubles each, and dropped to 0.03 rouble during the crisis. However, the buy back didn't affect the company finances as some analysts expected. VTB reported 8.7 billion rouble in revenue in the first quarter.
You can share this story on social media: