VTB posts 1H 2011 net profit of 53.6 billion roubles, as borrowers return
Published time: 1 Sep, 2011 07:29
Edited time: 1 Sep, 2011 11:29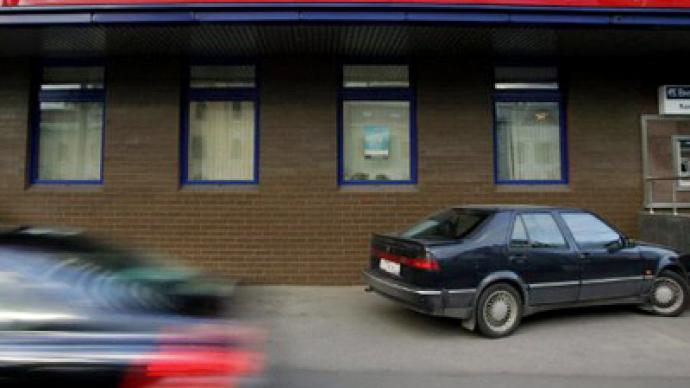 Russia's second largest bank, VTB, has posted a 1H 2011 net profit of 53.6 billion roubles under IFRS.
The net result is up 113% year on year from the 25.1 billion rouble profit posted for 1H 2010, as 1H net interest income jumped 21.4% year on year to 105 billion roubles, 1H net fee and commission income rose 51.7% year on year to 17.9 billion, and 1H operating income before provisions rose 45.2% year on year to 153 billion roubles.
The 1H results bore witness to a strong 2Q where VTB posted a net profit of 27.5 billion roubles, up from 9.8 billion posted for 2Q 2010, as 2Q net interest income rose to 49.1 billion roubles, from 44.4 billion a year earlier.
VTB noted that the group loan portfolio increased by 7.1% to 3.277 trillion roubles over the course of 1H with retail lending rising by 12.4% to 608.6 billion roubles, and corporate lending up by 6% to 2.668 trillion roubles.At the same time the quality of the lending portfolio improved with non-performing loans falling from 8.6% to 7.7% at the end of 1Q 2011.That saw provision charges for loan impairment fall from 2.1% at the end of 1H 20101 to 1.1% at the end of 1H 2011, as provisions for debt financial instrument fell from 27.2 billion roubles for 1H 2010 to 17.3 billion roubles in 1H 2011.
VTB reiterated its intention to increase its stake in the troubled Bank of Moscow to 75%, in order to facilitate a 295billion rouble loan from the Deposit Insurance Agency, from the 46.48% stake in the bank it has currently.
VTB President and Chairman, Andrey Kostin applauded the strong results adding that they underpinned a positive outlook.
"On the backdrop of the continued successful implementation of our strategy, the Group has delivered another strong set of results, with robust contribution from every key business line, resulting in healthy margins and commission income. Simultaneously, we have taken important steps towards the integration of the Group's new businesses, and we believe these will provide strong support to the Group's franchise and deliver further value to shareholders."