Russia to issue commemorative Olympic 100 rouble banknote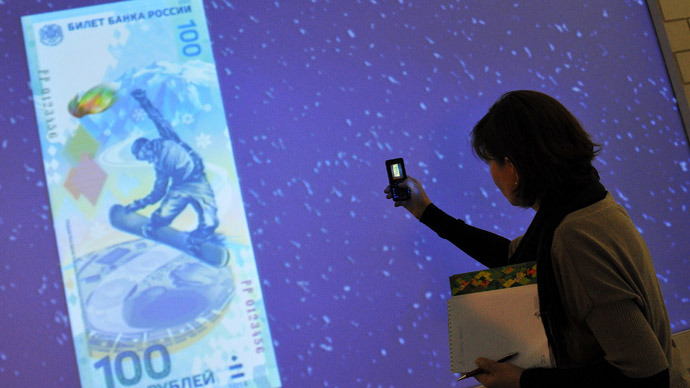 The Central Bank of Russia will issue a commemorative 100 rouble note in October, a hundred days before the start of the winter Olympic Games in Sochi.
"For the first time the Bank of Russia will release a commemorative Olympic bill, and for the first time the picture is vertically oriented," said first Deputy Chairman of the Central Bank of Russia Georgy Luntovsky, according to RIA Novosti News Agency.
The design of the banknote was revealed at a presentation at Krasnaya Poliana in Sochi. The banknote's designer is a student of the Repin Institute of the St. Petersburg Academy of Arts, Pavel Bushuev , who won a contest to design the banknote.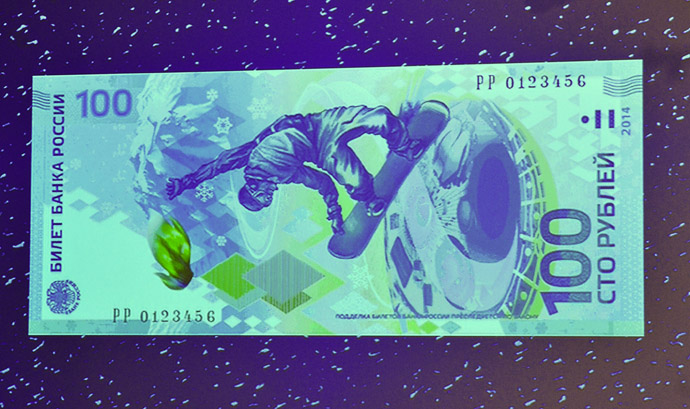 The blue tinted banknote depicts a flying snowboarder on one side, and on the other - the Olympic Stadium and a firebird. As part of another innovation the banknote will be released in an original gift box, according to Luntovsky.
10 million banknotes will be released into circulation in Russia,  said Luntovksy. He added that it is not expected to be sold like Olympic commemorative coins, except for a small which will be made with a souvenir gift box, RIA novosti reports.
The first Olympic banknotes appeared in China for the Olympic Games in Beijing in 2008. The Bird's Nest stadium and ancient Greek discus thrower statue, the Diskobolus of Myron, were emblazoned across a 10 Yuan note. The circulation of the Chinese Yuan was 14 million. Russia intends to maintain this tradition, according the Central Bank.
A hundred roubles is equal to about $3.30.
You can share this story on social media: