Market Buzz: US jobs shine over European gloom
Published time: 8 Oct, 2012 05:43
Edited time: 8 Oct, 2012 09:43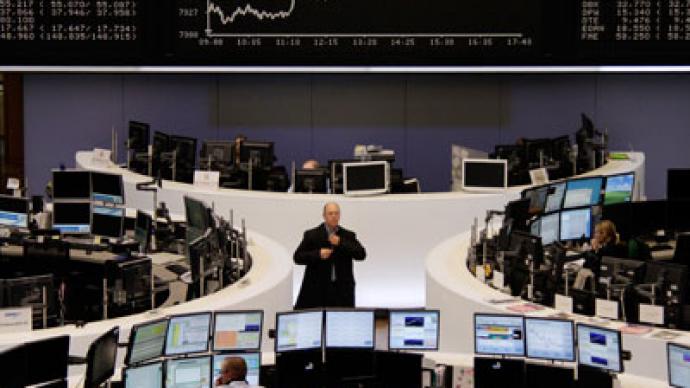 Investor optimism caused by better-than-expected stats on US unemployment is expected to carry into this week. However, European financial problems, mostly, of Spain and Greece, remain a drag.
"We expect the positive dynamics to continue at the markets" this week, according to Veles Capital analysts.
Russian floors closed Friday trading in an upbeat sentiment, with the RTS adding 1.77% to 1,509.29 and the MICEX going up 1.43% to 1, 477.60.
A monthly report form the Labor Department came as the major market catalyst last Friday. Employment in non-agricultural industry grew in September by 114, 000, more than 113,000 expected by Interfax. This was coupled by an inspiring unemployment statistics, with the unemployment rate dropping to 7.8% during the month, which marks a drop to below 8% for the first time since early 2009.
A ministerial meeting of EU leaders scheduled for Monday and Tuesday will be one of the key market drivers early in the week.
Among the major macrostats to be released the coming week is Wednesday's Beige Book, the report by the Fed on current economic conditions, the Producers' Price Index in the US, and the Producers' Confidence Index by Michigan University, as well as industrial production in the EU on Friday.
Asian stocks fell Monday as Europe's debt crisis continued to roil markets and the World Bank cut its growth forecasts for Asia.
Hong Kong's Hang Seng fell 0.7% to 20,872.04. South Korea's Kospi lost 0.7 % to 1,980.71 and Australia's S&P/ASX200 lost 0.3% to 4,480.10. Benchmarks in Singapore, Taiwan and mainland China also fell. New Zealand's rose. Markets in Japan were closed for a public holiday.
The World Bank cut this year's growth outlook for developing Asia-Pacific economies to 7.2% from its May forecast of 7.6%. The outlook for China, the region's biggest economy, was also downgraded. Now the bank expects its economy to grow 7.7 % in 2012, down from the previous May forecast of 8.2% growth. The bank cited weak global demand due to the lackluster US recovery and Europe's recession.
Andrew Sullivan, principal sales trader at Piper Jaffray in Hong Kong, said protests in Spain and IMF concerns over Greece continue to worry investors.
Tens of thousands of people marched in 56 Spanish cities Sunday to protest government budget cuts in a country experiencing its second recession in three years and record high unemployment.
Officials from the European Commission, International Monetary Fund and European Central Bank are currently in Greece assessing the country's progress in fulfilling the terms for receiving aid. If their report doesn't clear the way for the payment of the next 31-billion-euro (US$40 billion) tranche of the country's bailout, Greece could be forced to default on its debts and perhaps leave the euro. Greece has warned that it will run out of money next month if it does not receive its next scheduled loan.
Greece is caught in a deep recession, and has unemployment of nearly 25%. German Chancellor Angela Merkel is set to visit the country this week for the first time since the European debt crisis unfolded. Merkel is unpopular in Greece because her government has been instrumental in pushing Athens to make austerity cuts in exchange for its bailout loans.
The US job market report notwithstanding, the country's stocks ended mixed on Friday. The Dow Jones industrial average added 0.2%, while the Nasdaq fell 0.4%. The S&P 500 ended little changed.
European markets finished broadly higher on Friday with shares in France leading the region. The CAC 40 is up 1.64% while Germany's DAX is up 1.27% and London's FTSE 100 is up 0.74%.