Market Buzz: US floors back to work, Russia to remain under 'Sandy' storm clouds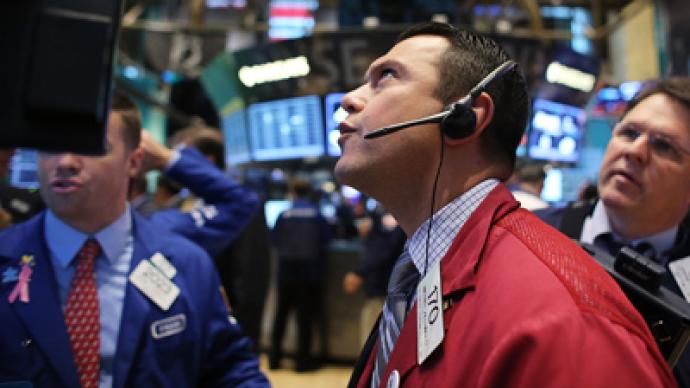 Trading in Russian floors is expected to remain sluggish on Wednesday, weighed by the effects from the worst storm in 75 years in the US, hurricane Sandy, and falling oil prices. The New York Stock Exchange will reopen after a two-day standstill.
"As the events in the US floors and the oil prices influence the Russian market much stronger than the news from Europe, I expect tomorrow's [Wednesday] trading session to open with very low trade volumes and in the red," Darya Pichugina of Investcafe wrote in an email on Tuesday.Both key Russian indices finished Tuesday's session in the red, with the RTS going down 0.34% to 1, 430,12and the MICEX losing 0.71% to stand at 1, 421.75.In the US, the New York Stock Exchange and Nasdaq said they planned to reopen on Wednesday and would keep investors updated. Tuesday New York Stock Exchange's (NYSE) decision to remain closed marks the first time weather has stopped trading for two straight days since 1888. The last time NYSE was closed for weather for one day was in 1985 due to Hurricane Gloria, when a blizzard left snow drifts as high as 40 feet in the streets of New York City. The price of gasoline fell Tuesday after Hurricane Sandy left a wide swath of flooding, power outages and disrupted transportation in the eastern US. The national average for a gallon of regular fell by about a penny, to $3.53. That's more than 11 cents lower than a week ago. Gasoline futures also fell one cent to $2.63.Anyway, Asian markets gained Wednesday. In Tokyo, the regional heavyweight, the benchmark Nikkei 225 was up 0.9% at 8,901.37. Hong Kong added 0.6% to 21,560.1 while South Korea's Kospi added nearly 0.7% to 1,912.91.In Europe, Monday's losses have been more than recovered on Tuesday. The FTSE 100 index of leading British shares was up 0.7% at 5,835 while Germany's DAX rose 0.9% to 7,266. The CAC-40 in France was 0.8% higher at 3,436."Despite the destruction caused by hurricane Sandy the worst of the 'frankenstorm' seems to be over and this allowed some investors the opportunity to dip back into equities following some good corporate earnings," commented Angus Campbell, head of market analysis at Capital Spreads."The heavyweight BP impressed with some stellar third quarter numbers, including a big rise in its dividend, and if there's anything investors like to see it's a good healthy increase in payouts for shareholders. Other companies advanced on the back of their numbers too, lifting many European indices beyond the near-term resistance levels and halting what looked to be a bearish trend setting in," Campbell specified.