Market Buzz: Manufacturing optimism?
Published time: 2 Oct, 2012 05:23
Edited time: 2 Oct, 2012 09:23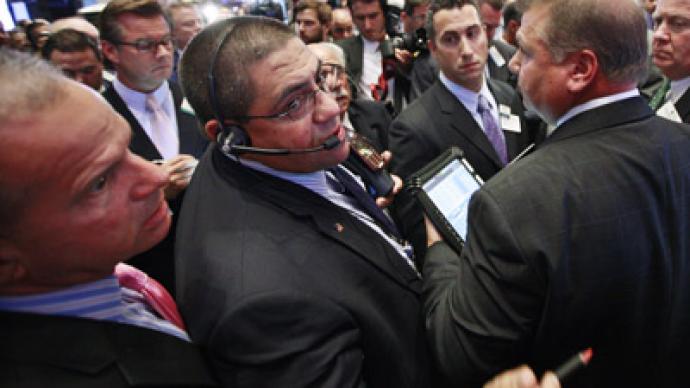 Monday optimism backed by hopes the US economy might be picking up could run into Tuesday's session, experts say. Later in the day the world's №1 economy released a report saying its manufacturing grew in September for the first time in four months.
"Should the positive sentiment remain on the US floors till the end of trading, it's likely that trading on domestic floors will start in a green zone on Tuesday," said Ekaterina Kondrashova of Investcafe.
"Meanwhile, investors are looking forward to the speech by the Fed head Ben Bernanke, hoping he might announce new decisions concerning realization of QE3 [quantitative easing] program," Kondrashova added.
On Monday, investors were emboldened to weigh into stocks after the Institute for Supply Management said its index of US factory activity rose to 51.5 in September from 49.6 in August. A reading above 50 indicates growth.
Both domestic indices grew on Monday, with the RTS adding 2.65% to 1,514.87 and the MICEX going up 2.19% to 1, 490.21.
Among the key inspiring factors for domestic players was the PMI [Purchasing Manager Index] data that showed operating conditions for Russian manufacturing kept on improving in September, the Investcafe analyst explained.
Asian stock markets were boosted Tuesday by the upbeat report on September US manufacturing. Japan's Nikkei 225 index 0.3% rose to 8,825.40. South Korea's Kospi rose nearly 0.3% to 2,001.41 and Australia's S&P/ASX 200 gained 0.6% to 4,413.80. Benchmarks in Singapore, Taiwan and Malaysia also rose. Markets in Hong Kong and mainland China were closed for public holidays.
The better news on manufacturing helped investors set aside concerns of a possible downgrade by credit rating agency Moody's of Spain's debt rating to junk status. The agency has the debt on review and is due to release its findings this week. Any cut in the rating would make Spain's debt non-investment grade. That would hurt Spanish markets because many pension funds and banks would have to sell them from their portfolios and desist from buying them at auction. That in turn would force Spain to pay higher rates to borrow money, further hurting its finances.
The results of the stress test for Spanish banks came as another relief for investors. It showed that the country's credit institutions would need around 60 billion euro to recapitalize, which compared to the previous forecast of 100 billion euro.
Wall Street stocks closed mostly higher Monday. The Dow Jones industrial average rose 0.6% to close at 13,515.11. The S&P 500 gained 0.3% to 1,444.49. The Nasdaq Composite fell 0.1% to 3,113.53.
In Europe, The FTSE 300 index provisionally closed up 1.5% at 1,104.97 points, while the eurozone Euro STOXX 50 index rose 1.9% to 2,501.00 points.