Market Buzz: Optimism from US spend trend
Published time: 16 Oct, 2012 05:34
Edited time: 16 Oct, 2012 09:35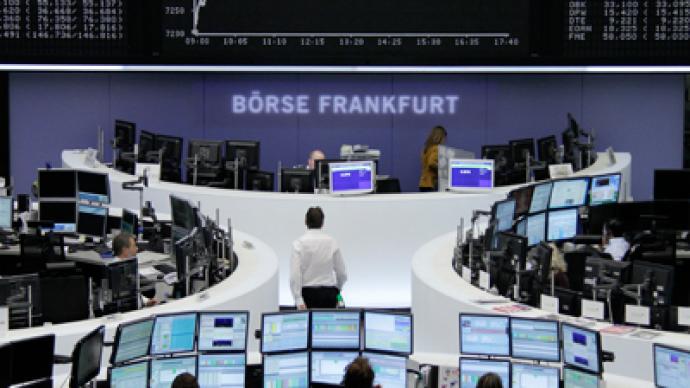 Global stocks Tuesday should mirror positive US retail sales data showing consumer confidence in the world's biggest economy. No strong driver is expected, investors mostly waiting to hear of the next EU development at a Thursday summit in Brussels.
"Generally the news background remains positive, which supports demand of risky assets. However the investors expect comments on Greece and Spain, which might be made in course of the euro summit late this week, so for now strong price variations are unlikely," according to Veles Capital analysts.
Investors around the world were encouraged by a US Commerce Department report that showed retail sales rose 1.1% in September, while a 0.8% rise was generally anticipated. August's number was also revised slightly higher to 1.2%.
Russian stocks, however, did not have enough time to reflect the US news fully, as both key domestic indices finished Monday trading in the red. The RTS lost 0.27% to end at 1, 466.86, while the MICEX went down 0.18% to 1, 443.42.
"First of all this [a fall of the indices] could be explained by falling oil, as WTI went 1.5% cheaper, Brent is losing 0.14%," explained Darya Pichugina of Investcafe.
Asian stock markets were led higher Tuesday by exporters inspired by the report on US retail sales.
Japan's Nikkei 225 index rose 0.9% to 8,658.82 and South Korea's Kospi climbed 0.4% to 1,932.78. Hong Kong's Hang Seng rose 0.3% to 21,206.42. Australia's S&P/ASX 200 gained 0.3% to 4,495.60. Benchmarks in Taiwan, Singapore, and New Zealand also rose.
Japan's Softbank Corp. rose gained the most on Monday, going up more than 10%. That was a day after the company, which has investments in Internet and telecom businesses, announced its buying a controlling stake in Sprint Nextel Corp., the No. 3 US cellphone company, for $20.1 billion.
Another portion of good news came from China, where inflation slowed in September to 1.9% from an August figure of 2%.
On Wall Street, the Dow rose 0.7% to close at 13,424.23, its biggest gain since September 13. The Standard & Poor's 500 index ended 0.8% higher at 1,440.13 and the Nasdaq composite index rose 0.7% to 3,064.18.
In Europe, investors were mostly positive, still anticipating Spain to ask for a bailout. The pan-European FTSE 300 closed up 0.5% at 1,098.36 points. The EuroSTOXX 50 index of eurozone blue chips added 0.7% to 2,485.12 points.