Market Buzz: 'Fiscal cliff' concerns offset Greek optimism
Published time: 28 Nov, 2012 05:39
Edited time: 28 Nov, 2012 09:39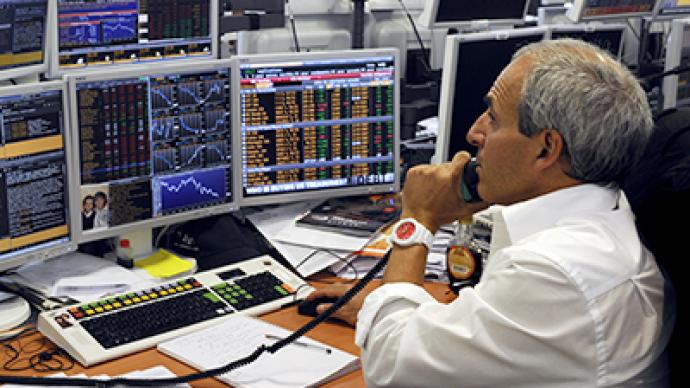 Lack of progress around the "fiscal cliff" in the US seem to be outweighing optimism about Greece receiving another lifeline from the Eurogroup in all major floors except Europe itself. In Russia, even high oil failed to support stocks.
A high-ranking member of the US Senate unnerved investors expressed frustration over the budget impasse and the looming "fiscal cliff." This sent Asian stocks lower in early Wednesday trading.
The US President Barack Obama, together with lawmakers, has until January 1 to reach a deal to trim the country's unwieldy deficit. Otherwise, a series of automatic tax increases and sharp spending cuts will take effect that could drag the world's leading economy into recession.
Japan's Nikkei 225 index fell 0.8% to 9,348.55, a day after closing at a seven-month high. South Korea's Kospi shed 0.8% to 1,909.56 and Australia's S&P/ASX 200 lost 0.5 % to 4,434.90. Hong Kong's Hang Seng fell 0.8% to 21,672.98.
Russian stocks finished lower on Tuesday, where "even the world oil prices didn't manage inspire investors to buy," said Ekaterina Kondrashova, an Investcafe analyst.
Also, "there is real concern that the Greek deal is nothing more than the can being booted down the road beyond the German general election towards the end of next year," Angus Campbell, head of market analysis at Capital Spreads, added.
The RTS dipped 0.61% to end at 1,418.28 and the MICEX was down 0.65% to 1,394.87.
In Russia's corporate news, US GAAP financial statement for 3Q and 9M 2012 from the country's oil major Lukoil was the most interesting story. High oil prices drove the company's revenue 9.6% higher quarter on quarter in August–October 2012 – to $35.5 billion.
On Wall Street, reports released Tuesday showing increases in US consumer confidence and orders for machinery and equipment failed to boost stocks significantly.
The Dow Jones industrial average fell 0.7 % to close at 12,878.13. The S&500 lost 0.5 % to close at 1,398.94. The Nasdaq composite was down 0.3% to 2,967.79.
In Europe, the major stocks closed higher, with Britain's FTSE 100 up 0.2%, and Germany's DAX up 0.6%. France's CAC 40 was flat.
Late Monday finance ministers of the eurozone and representatives of the International Monetary Fund agreed shortly to provide for another 34.4 billion euro ($40.8 billion) to Athens, as well as three additional payments in early 2013.