Market Buzz: Digesting Bernanke's call to stick to stimulus
Published time: 11 Jul, 2013 06:06
Edited time: 11 Jul, 2013 06:13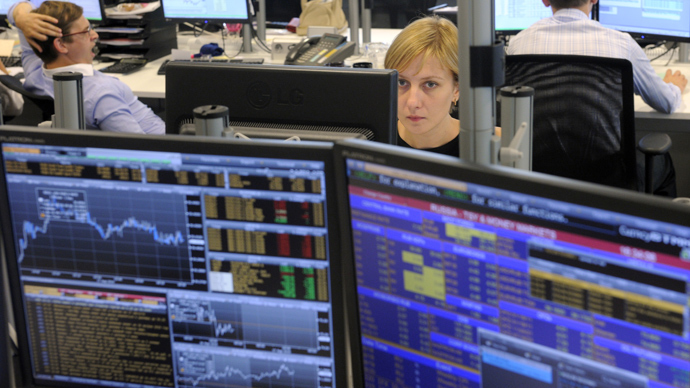 Russian equities are expected to bounce back after the US Fed's announcement it would keep on with its $85 billion-a-month bond purchases. That's after a two-day market downturn amid concerns the US central bank will curb stimulus.
Fed Chairman Ben Bernanke backed sustained stimulus in a Wednesday speech, saying low inflation and high unemployment meant the Fed needed to press on with its bond acquisitions. The central bank will likely keep at least some of its eased monetary policies going forward, according to the Fed's head.
"Highly accommodative monetary policy for the foreseeable future is what's needed in the US economy," Bernanke said.
However, the Fed's minutes revealed lack of agreement in 19-member Federal Open Market Committee. "About half" of the FOMC board said "it likely would be appropriate to end asset purchases late this year", according to the minutes . "A few" wanted to slow or stop the purchases at the June meeting.
Bernanke's announcement drove the US dollar lower against most currencies, with the euro climbing 0.9 percent to $1.3098. That's after the greenback climbed to its three–year high against the basket of currencies tracked by Bloomberg.
Both key Russian indices ended Wednesday trading session lower, just hours before the Fed's Federal Open Market Committee (FOMC) was to release the minutes of its June meeting. The RTS lost 0.59 percent to 1, 275.29 and the MICEX shed 0.89 percent to finish at 1, 333.71.
The Fed's decision to keep stimulus in place should be a relief for Russian markets, as the other decision would have hurt commodities – a backbone for Russian economy.
"If the Federal Reserve begins cutting its stimulus program, this will lead to a drop in commodities and this is bad for Russia," Andrey Vashevnik, chief investment officer at R&B Investment Fund Ltd., told Bloomberg Businessweek ahead of the minutes' announcement.
In the US, the Dow Jones retreated 0.1 percent, while the NASDAQ added about 0.5 percent and the S&P 500 grew marginally. "American investors preferred not to take hasty decisions, analyzing the Fed's minutes," according to Grigory Birg of Investcafe.
European markets finished mixed as of the most recent closing prices. The DAX gained 0.11percent, while the FTSE 100 led the CAC 40 lower. They fell 0.12 percent and 0.08 percent respectively.
Asian markets are mixed on Wednesday. The Shanghai Composite is up 2.24 percent while the Hang Seng gains 2.15 percent. The Nikkei 225 is off 0.61 percent.
Brent oil was steady at $107.89 a barrel in London, while Standard & Poor's GSCI Index (SPGSCI) of commodities advanced 0.2 percent, rising for the seventh day. Urals crude added 0.6 percent to $108.