Market Buzz: US companies inspire ahead of anticipated Fed note
Published time: 10 Jul, 2013 05:54
Edited time: 10 Jul, 2013 05:59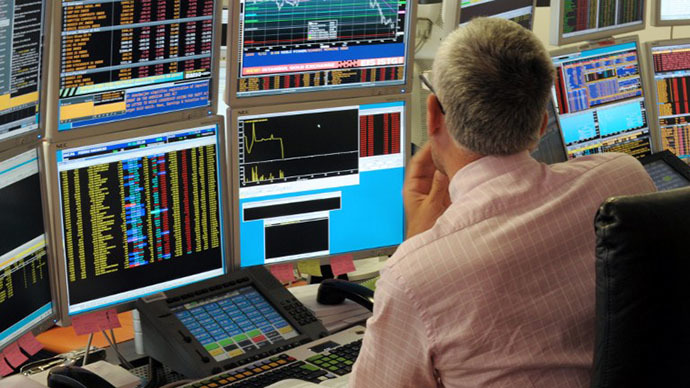 Investors Wednesday are set to focus on the week's most-anticipated event – the release of the US Fed minutes. On Tuesday, a good start to the reporting season in the world's largest economy pushed indices up, with the dollar hitting its three-year high.
Details of the minutes of the latest US policy-setting meeting were keenly sought after Chairman Ben Bernanke announced on June 19 that the state's stimulus program of $85 billion in monthly asset purchases could be scaled back soon. Russia, however, will be able to reflect the news on Thursday, as the Fed will report after Russian floors finish its daily session.
Russia's two key indices finished Tuesday session mixed. The RTS added 0.43 percent to 1,282.84, while the MICEX lost 0.23 percent to 1,345.73.
Hopes of a coming recovery in the world's biggest economy gained firmer ground after the aluminum producer Alcoa – traditionally the first US company to report quarterly earnings – posted solid financials numbers. And the analysts expect earnings of S&P 500 companies to rise 2.9 percent in the second quarter from a year ago, as Reuters cites Thomson Reuters data.
"I would think that the trend is going to be up," Jeff Meyerson, head of trading for Sunrise Securities in New York, told Reuters. "We could at any time have a substantial correction again, but I think we still have a trend that's doing OK. That will be determined by how the earnings come out in the next few weeks."
On Tuesday, the Dow Jones finished up 0.50 percent, at 15,300.34. The S&P500 added 0.72 percent to 1,652.32. The NASDAQ was up 0.56 percent, at 3,504.26.
The greenback strengthened to its recent three-year highs against a basket of currencies, with the biggest gain being against the British pound after weak manufacturing UK data for May. Official data released on Tuesday showed that the UK's industry dropped 0.8 percent in May, as opposed to the expected 0.2 percent growth.
European markets finished broadly higher on Tuesday with shares in Germany leading the region. The DAX is up 1.12 percent while London's FTSE 100 is up 0.98 percent and France's CAC 40 is up 0.52 percent.
The world stocks remained higher even despite the International Monetary Fund (IMF) cut its forecast for economic growth for 2013-14. The IMF said global growth in 2013 will remain unchanged from the 2012 pace – at 3.1 percent this year, which is below the IMF's April forecast of 3.3 percent. The next year's outlook was trimmed to 2.7 percent from 3 percent. The IMF said the wealthy nations that are now facing economic slowdown need to keep injecting stimulus until recovery is solid.
On Wednesday Europe is set to release a bunch of statistics. Germany will post its Consumer Price Index for June, with France and Italy releasing their May manufacturing data. Price growth in Germany is largely expected to remain static - at 1.8 percent year on year, with France set to produce a 0.8 percent manufacturing contraction and Italy's industry growing 0.3 percent, Darya Pichugina of Investcafe said.
Asian markets started Wednesday mixed, with the Nikkei adding 0.29 percent, Shanghai Composite losing 0.05 percent, Hang Seng adding 0.71 percent, KOSPI falling 0.24 percent, S&P/ASX 200 adding 0.82 percent.