Market Buzz: Waiting with bated breath ahead of jobs reports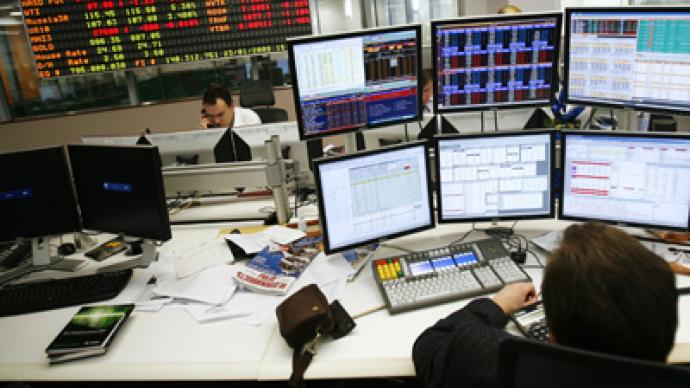 Global investors are currently holding off on making any drastic moves as they await a series of labor reports later this week.
"People are reluctant to pull the trigger one way or the other until we get more clarity," J.J. Kinahan, chief derivatives strategist at TD Ameritrade, told CNN Money.A Federal Reserve meeting scheduled for this week may also serve as another motivating factor for investors, Liliya Brueva of Investcafe added.On Monday, Russian stocks closed on a positive note: The RTS rose 1.03% to 1,635.50 and the MICEX moved up 1.22%to finish at 1,562.93."Our [Russian] trading received a growth impulse from the positive news from China, where industrial companies have registered increased income for the fourth consecutive month," Brueva explained.Industrial earnings in China surged 20.4% in Q4 after negative growth over the first three quarters, according to the country's National Bureau of Statistics.Trading on Wall Street was mixed on Monday: The Dow Jones declined 0.1% and the S&P 500 lost 0.2%, while the Nasdaq added 0.1%.Earlier gains on US floors, which hit new five-year highs on the back of strong corporate earnings, were hampered by "some conflicting economic data showing worse than expected pending home sales data, which came after some strong durable goods data that had initially given markets a bit of a boost," explained Angus Campbell, head of market analysis for Capital Spreads.The Census Bureau reported that orders for durable goods rose 4.6% in December, an increase over the 1.6% growth forecast by economists. The index of pending home sales also fell 4.3% during the same period; the index is based on the number of hosing contracts signed in a month, but does not measure actual closings. European stocks closed mixed on Monday: The FTSE 100 gained 0.16%, the CAC 40 rose 0.07% and the DAX lost 0.32%.Asian markets also finished mixed: The Shanghai Composite added more than 2%, closing at its highest level since June, while the Nikkei lost about 1%. The Hang Seng in Hong Kong also traded slightly higher.
You can share this story on social media: