Market Buzz: Protracted uncertainty prevails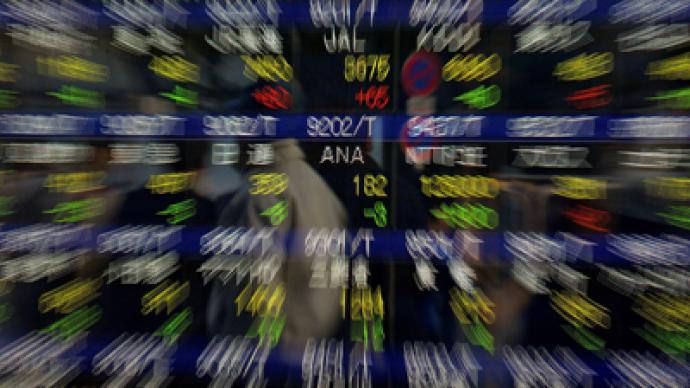 Global floors remain sluggish as traders register disappointment with the World Bank's forecast of weaker-than-expected economic growth in 2013, and as US debt ceiling negotiations draw nearer.
Russian indices are expected to produce another day of slow trading on Thursday, as uncertainty prevails on international floors, according to Darya Pichugina of Investcafe. Russian stocks traded mixed Wednesday, with the RTS declining 0.34% to 1,571.15, and the MICEX rising 0.12% to 1,516.67. Asian floors also began Thursday trading with mixed sentiments: The Nikkei has gained 0.15% and the Shanghai Composite has gone down 0.78%, Pichugina added. The debate over the US debt ceiling is heating up as Washington is expected to reach its borrowing limit in February. Should the country fail to resolve the issue, the world's largest economy could default, Fed chief Ben Bernanke and US Treasury Secretary Timothy Geithner have warned. The debt ceiling is expected to dominate investor attention after the reporting period in the US concludes, J.J. Kinahan, chief derivatives strategist at TD Ameritrade, told CNN Money."We may have a bit of a pause after earnings season ends and we head into debt ceiling negotiations," Kinahan said. "That's when you might see people start to hold back. For now, people are trading earnings as if it's a normal market." The World Bank report was another point of concern for investors, as the Washington-based bank projected that the world economy would expand 2.4% in 2013, down from a June forecast of 3%, after growing 2.3% in 2012. The lowered expectations are due largely to austerity measures, high unemployment and low business confidence weighing down economies in developed nations, the World Bank said."Doubts have been growing that the strength in equities can be sustained as fears of the outlook for the global economy re-emerged after the World Bank downgraded its forecast for global GDP leading to some investors banking recent profits," Angus Campbell, Head of Market Analysis at Capital Spreads, wrote in an email.On Wall Street, the Dow Jones fell 0.2% on Wednesday, with Boeing leading the decline. The S&P 500 closed almost flat, while the Nasdaq gained 0.2%. Boeing shares fell 3.4% as its 'Dreamliner' jet continued to disappoint. Two Japanese airlines grounded their fleets of the 787 aircraft after one of All Nippon Airways' Dreamliners had to make an emergency landing.European markets traded mixed as of the most recent closing prices. The CAC 40 gained 0.30% and the DAX rose 0.20%, while the FTSE 100 lost 0.22%.
You can share this story on social media: