Market Buzz: Gains on news of progress in 'fiscal cliff' talks
Published time: 18 Dec, 2012 07:00
Edited time: 19 Dec, 2012 08:37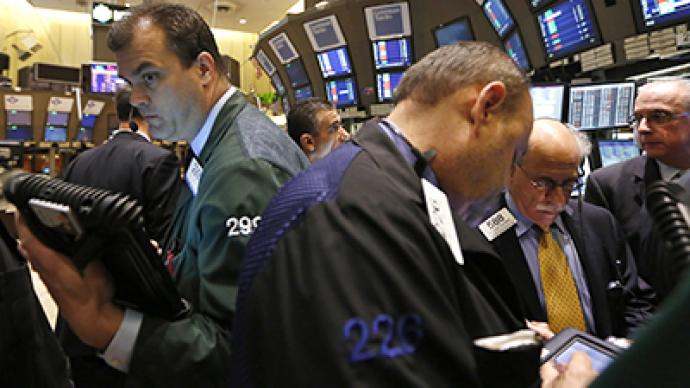 Russian stocks are expected to remain watching international floors on Tuesday, with the latter having been largely inspired by signs of progress in budget talks in Washington a day earlier.
"Russian investors will be orienting themselves on the behavior of foreign traders, the news in Russia's corporate sectors, as well as thegeneral news environment," according toJuliya Voitovich, Investcafe analyst.
Both Russian key indices closed Monday trading in the black, with the RTS adding 0.83% to 1, 503.53 and the MICEX going up 0.57% to 1,477.87.
Stock traders at the New York Stock Exchange paused for a minute of silence at 9:15 a.m. EST to remember the 20 children and seven adults killed Friday in a gunman's rampage through a Connecticut elementary school.
 The Dow Jones industrial average rose 100.38 points to 13,235.39, its biggest gain for this December. The Standard & Poor's 500 index climbed 16.78 points to 1,430.36 and the Nasdaq composite index rose 39.27 points to 3,010.60.
Indexes opened higher following the news that Boehner, a Republican, offered $1tn in higher tax revenue over 10 years and an increase on the top tax rate for people making $1mn per year, to 39.6% from 35%. The market moved higher still after news crossed shortly before noon that Boehner went to the White House to meet with President Barack Obama.
Japanese stocks rose on Monday after the country's Liberal Democratic Party regained power following a landslide election victory. The Liberal Democrats have promised greater economic stimulus spending and more action to end a destructive cycle of price declines, or deflation.
The country's Nikkei 225 index jumped 0.9 % to close at 9,828.88, its highest level since April, after the country's Liberal Democratic Party swept back into power at weekend elections with a landslide victory.
Elsewhere in Asia, China's shares fared fairly well as its new leaders promised more spending if needed to underpin a wobbly economic recovery. Those hopes helped the Shanghai Composite to rise 0.4% to 2,160.34 and the smaller Shenzhen Composite index to end 0.4% higher to 819.58.
Meanwhile, European markets ended lower. London's FTSE 100 fell 0.4%, with CAC 40 going down 0.3%. The DAX in Germany ended flat.