Market Buzz: Looking for positives from China while US remains a drag
Published time: 14 Dec, 2012 06:14
Edited time: 14 Dec, 2012 10:17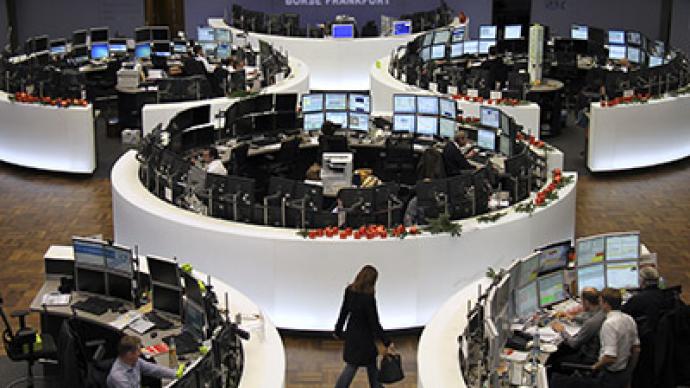 Russian investors are expected to largely reflect data regarding business conditions for Chinese manufacturers on Friday. This comes after all major stocks fell the previous day due to a lack of progress in US budget negotiations.
Russian stocks have a chance to grow in Friday trading "provided that the December PMI index for China shows positive dynamics," Andrey Shenk of Investcafe told RT via e-mail.
PMI, or the Purchasing Manager Index, is  an indicator of business activity in the manufacturing sector, largely reflecting business operating conditions.
On Thursday, the key indices in Russia went down. The RTS dropped 0.48% to 1,499.68 and the MICEX fell 0.25% to 1,462.87.
Asian stock markets stuttered Friday after a survey showed a sharp drop in Japanese business confidence. A lack of progress in US budget negotiations furtherintensified fears that the world's largest economy is facing a new recession.
Japan's Nikkei 225 index fell 0.4% to 9,706.50 after a Bank of Japan survey showed large Japanese manufacturers becoming more pessimistic about business conditions. Over the last three months, the index dropped until it hit minus 12 in December, performing far worse than expected in light of the minus three reading registered in September.
South Korea's Kospi fell 0.6% to 1,989.66. Benchmarks in Singapore and Taiwan also fell. Hong Kong's Hang Seng rose 0.3% to 22,519.7 and Australia's S&P/ASX added 0.1% to 4,588.90.
On Wall Street, the stocks slid Thursday, as investors registered their dismay at the apparent lack of progress during budget talks in Washington between President Barack Obama and key Republican lawmakers.
The Dow Jones industrial average fell 0.6 % to 13,170.72. The Standard & Poor's 500 index shed 0.6% to 1,419.45. The Nasdaq composite was down 0.7 % to 2,992.16.
A deal must be reached by the end of the year to avoid what has been dubbed the "fiscal cliff'" – hundreds of billions of dollars in automatic spending cuts and tax increases that could plunge the world's largest economy back into recession.
"Without a resolution soon the usual Christmas rally could come to a very quick and abrupt end as investors prepare themselves for the worst," said Angus Campbell, Head of Market Analysis, Capital Spreads.