Market Buzz: Following down the oil track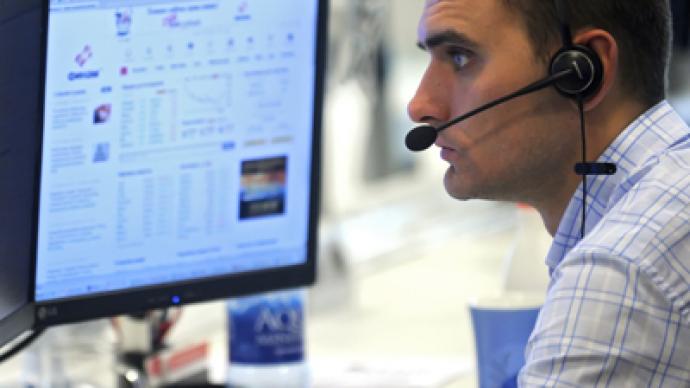 Russian indices continue sliding down, after they grew over 16% growth during three month long rally. Oil prices remain a key factor influencing the market in the country.
Among international events that may impact the markets is a speech by Ben Bernanke, the head of the U.S. Federal reserve. But Pavel Emelyantsev of Investcafe doesn't expect anything extraordinary to be declared."All of his latest speeches resulted in stating the fact that the Fed is concerned with the unemployment level. But given that the inflation is also high, there won't be any new money injections soon," Emelyantsev said.Domestically, Russian coal industry leader Raspadskaya is to release its IFRS financial report for 2011 on Friday. The general expectations are quite negative, which reflected in the company's shares losing 4.8% in Thursday trading. Russia's floors finished Thursday session in the red, as the MICEX went down 1.68% to 1, 494.86 points and the RTS fell2.1% to 1, 612.77."One of the main reasons for the negative dynamics is the oil price going down a day before," Investcafe analyst said. Currently WTI stands at $103.5/bbl, with Brent being traded at $122.39/bbl. At the meantime the quotations tried to jump over a $126/bbl level a couple of days ago, Emelyantsev reminded.The price was affected by reports that US inventories increased. On top of that, Ali Naimi, the Saudi Arabian Minister of Petroleum and Mineral Resources, told FT that the current oil prices were inadequate, as the oil supply was sufficient.US Thursday trading was mixed for the country's stocks. The Dow Jones industrial average was up 0.15%, at 13,145.82. The Standard & Poor's 500 declined 0.16%, to 1,403.28 and the Nasdaq Composite Index  lost 0.31%, to 3,095.36.In Europe, national benchmark indexes the Stoxx Europe 600 dropped 1.3% to 260.74 at the close, marking the biggest decline since March 6. The U.K.'s FTSE 100 lost 1.2%, while France's CAC 40 Index declined 1.4% and Germany's DAX slumped 1.8%.In Asian floors, the Nikkei was down 0.2% to 10,098.98, stepping further away from the one-year closing high of 10,255.15 hit on Tuesday. The Hang Seng Index slipped 1.3%, with the broader Topix index easign 0.1% to 856.62.              
You can share this story on social media: