Market Buzz: Russian stocks set to grow despite disappointing GDP, rate freeze
Published time: 12 Aug, 2013 06:35
Edited time: 12 Aug, 2013 12:55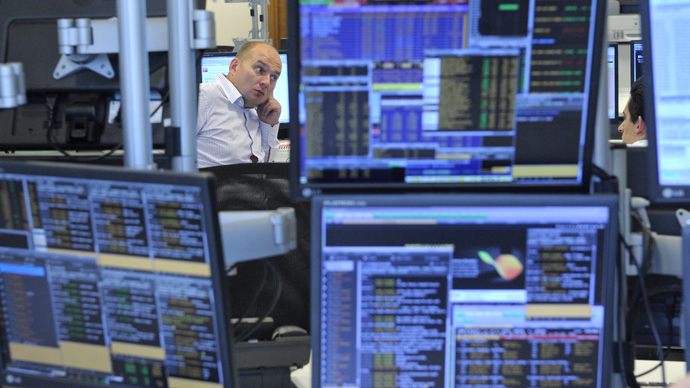 Driven by recovering crude, Russia's stocks are expected to continue their Friday positive gains into Monday session. Better-than-estimated Chinese industrial output should come as another market trigger.
Markets will "most likely, continue Friday's positive progress, and markets will keep on rising amid higher prices for commodities," according to Andrey Shenk, an analyst at Investcafe.

Crude prices are recovering, even though the International Energy Agency has lowered its 2014 oil demand growth estimate by 100,000 barrels per day. WTI is up 0.01 percent at $105.98 per barrel, and Brent slid 0.15 percent to $108.06 a barrel. Oil prices are an integral part to Russia's economy, as oil and gas account for nearly 50 percent of budget revenue.

On Friday Russian equities snapped their five day losing streak, with the MICEX gaining 1.49 percent to 1,382.72 and the dollar-based RTS index up 1.72 percent.

Mechel, a Russian metals and mining company - and the worst Russian performer on the New York Exchange - rallied on China's positive industrial data, and may look to continue its gains on Russian floors Monday.

Growth came to Russian floors Friday despite disappointing GDP figures for 2Q 2013 and the decision by the Central Bank of Russia (CBR) to keep the refinancing rate unchanged – at 8.25 percent.

Russia's GDP slowed to 1.2 percent in 2Q  2013 year-on-year, down from 1.6 growth in 1Q 2013, preliminary data by Rosstat said. This marked the sixth consecutive quarter of decelerating pace of economic activity.

"The rate decision by the CBR unfortunately demonstrates how disconnected the central bank has become from what transpires in the real economy," Ivan Tchakarov, chief economist for Russia & CIS at Renaissance Capital, wrote in an email.

US stocks quietly retreated on Friday. The Dow Jones closed down at 0.46 percent, the S&P dropped 0.36 percent, and the NASDAQ dipped 0.25 percent.

Sales of 10-year government bonds in France and Spain Monday could steer market sentiment in Europe.

European indices advanced. Germany's DAX rose 0.24 percent, France's CAC gained 0.30 percent, and Britain's FTSE 100 is up 0.82 percent.

Japan's second-quarter GDP grew by 2.6 percent, far underperforming analysts' expectations of 3.6 percent expansion.

The Nikkei has fallen as a result, trading down 0.63 percent at 13,529.25. Hong Kong's Hang Seng gained 1.64 percent while the Shanghai Composite surged 1.37 percent.