Market Buzz: Russian equities await Central Bank decision
Published time: 9 Aug, 2013 06:16
Edited time: 9 Aug, 2013 09:36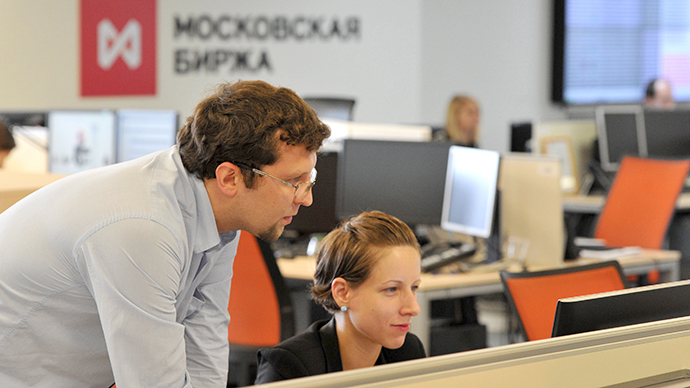 Equities Friday will be focused on the Central Bank of Russia's decision on the refinancing rate, which will stay put at 8.25 percent according to most analysts, as officials wait for inflation to drop below 6 percent before decreasing the benchmark.
If left unchanged, stocks will likely continue their five-day losing streak.

"Bank shares are sensitive to the stimulus speculation; the market would receive a boost if the central bank cut its main rates," Stanislav Kopylov, an asset manager at UralSib Asset Management, told Bloomberg.

Traders will watch Russia's two largest banks, Sberbank and VTB, respectively, after the decision is reached. Both banks' shares dropped ahead of the meeting.

Russia's MICEX index continues its losing streak, and after poor performance on Russian floors, closed at 1362.38. The RTS gained .015 percent to 1303.28.

Asian optimism could help counterbalance losses in Friday trading.

The Nikkei 225 rose 0.45 percent after the Bank of Japan announced it decreased its money supply in June from 3.8 percent to 3.7 percent. The Hong Kong Seng Index is also trading high, up 0.39 percent at 21,740.81.  

Oil, Russia's main export, is slightly on the rise, which boosted shares in oil giants like Rosneft (+0.36 percent) and Gazprom (+0.30 percent) on Thursday's floors.

Oil prices are on the rise following the US report in lower inventory. WTI rose 0.72 percent at $104.14 per barrel and Brent jumped 0.31 percent to $107.01.

The top concern among American investors will be speculation on the US Federal Reserve and when it may begin tapering its stimulus plan.

At market close, the Dow Jones rose 0.18 percent, the S&P gained 0.39 percent, and the NASDAQ Composite jumped 0.41 percent, ending a three-day losing streak.

European stocks will look to official French data on industrial production and the UK's release of their trade balance on trading floors. 
"On Friday, August 9, in the western markets will experience weak performance in low activity of investors," according to Andrew Shenk, an analyst at Investcafe.

European markets finished strong on Thursday on steady Chinese inflation data. Germany's DAX is up 0.70 percent, France's CAC 40 gained 0.64 percent and London's FTSE 100 increased 0.28 percent.

Australia's S&P slipped 0.6 percent after the Reserve Bank of Australia cut its 2013 GDP growth outlook down to 2.25 percent from 2.5 percent. Static unemployment data from Thursday is another factor for low-trading.