Russia will not wait for peak prices for companies to go private
Published time: 19 Jun, 2012 14:27
Edited time: 19 Jun, 2012 18:27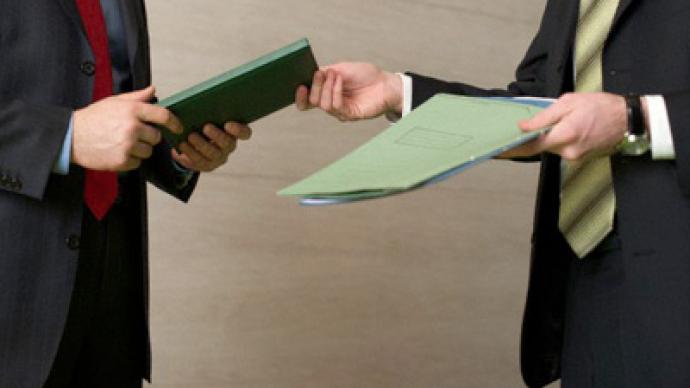 "We need to cut the amount of state property in half. That's a huge amount. Are we ready for this? Yes," says Russia's First Deputy Prime Minister Igor Shuvalov.
In early June the country's government presented a new version of its long-delayed privatization program, announcing plans to sell 300 billion roubles' ($9.31 billion) worth of assets this year, with state ownership in the economy cut to about 25 or 30% of all assets over the next 5 – 6 years, including stakes in the biggest lender Sberbank, the diamond miner Alrosa and oil major Rosneft.
Speaking to Wall Street Journal about the energy sector, Shuvalov said the government will go ahead with the sale but won't rush, because the sector is a most sensitive one. "I've had conversations with Deputy Prime Minister Arkady Dvorkovich and Energy Minister Alexander Novak and Rosneft CEO Igor Sechin, and they all agree that we need private investors in the energy sector, but we would like partnership."
Igor Shuvalov sees as ideal for Rosneft that major global energy companies became shareholders by exchanging either shares or assets once the oil major becomes private.
The government had planned to sell 15% of Rosneft this year, but has pushed back the deadline to 2016.
Shuvalov added that now that Igor Sechin has become CEO, he thinks "the company will become private even faster."
However, former deputy prime minister for the energy sector, now CEO of Rosneft Igor Sechin has been opposed to privatization of state stakes while stock market valuations are so low due to the eurozone crisis.
"If there is a window, if the market can give us a price we think is fair, then we will sell. We won't be waiting for peak prices, we understand that these years will be tough, that there won't be top prices," argues Igor Shuvalov.
The new plan by the government is for Rosneftegaz, the vehicle through which the state holds 75.16% in Rosneft, to become an investor in state companies subject to privatization, in other words, to effectively buy the stakes being sold by the state property fund according under the privatization program.
Shuvalov said along with others, Rosneftegaz will put forward terms for privatization. "Only if their offer is substantially better and we understand why, will we accept it. For the moment I see it as a holding company for the shares. I don't see how it could develop as a separate company," he added. "The prime minister and I and our colleagues agree that there's no reason for the state to use it as a means to grab assets."