Russian Railways: From sea to sea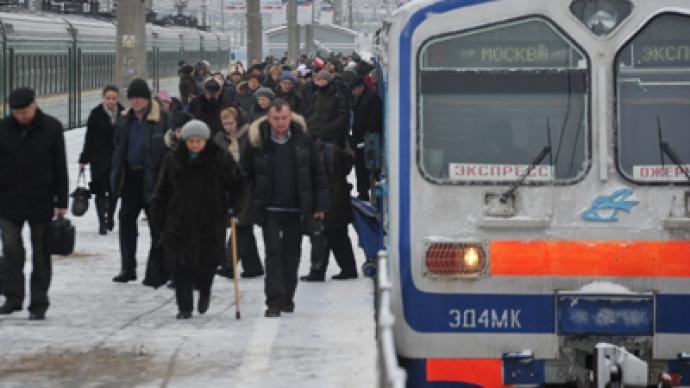 Russian Railways, the country's rail carrier, is looking to expand its network far beyond the former Soviet Union through building joint services with Europe, Asia and the Middle East.
­"Everyone is talking about land bridge. But land bridge is a terminology invented by us that means railway infrastructure providing services for customers in Europe and in Asia, mainly in China, through the territory of Russia or Kazakhstan", Russian Railways CEO Vladimir Yakunin told RT.
Building cooperation with neighbors Belarus and Kazakhstan under the newly created Customs Union is top of the agenda for Russian Railroads as this would be the first step to Eurasian cooperation, according to Mr Yakunin. The company plans to attract investment of 400 billion roubles for realizing the project with the Customs Union.

"From this point of view it is essential to create a special logistic company which will be the major company to carry out container operations,"  Mr Yakunin told RT.
There are also Western partners along with Chinese partners, who are interested in cooperation with a railway joint venture of the Customs Union, he said.
"And if we have this kind of joint project between Russia, Kazakhstan, Europe and possibly China, that will be the first sample of cooperation between Europe and the Eurasian continent," Yakunin went on.
Russian Railways also has joint projects with China, Japan, South Korea and North Korea. Its projects in the Middle East have, however, come under threat as political tension in the region escalates. After last year's civil war in Libya broke out, Russian Railways had to stop the building of railroad between Sirte and Benghazi. Now the project of a railroad between Tabriz and Azarshahr in Iran is frozen because of UN sanctions against the country.

Mr. Yakunin considers the sanctions unfair to other countries and companies. "I don't think sanctions do any good for those who impose them, or for those on whom they are imposed", Yakunin said. "We are cooperating with Iran in railway projects. Is this doing anything bad to Europe, Russia or Iran? Of course not."

Yakunin also stressed that the sanctions have already affected Russian banks and their accounts in the US. The Russian Railways boss is concerned the US could impose further sanctions on these banks.
"If the sanctions of the UN don't include sanctions against normal economic cooperation in a particular field, why does one country have the right to think that sanctions should be imposed on different banks of different countries, just because they have credit histories with particular organizations for cooperating in railway construction?"