Russian metals companies leave Europe as crisis bites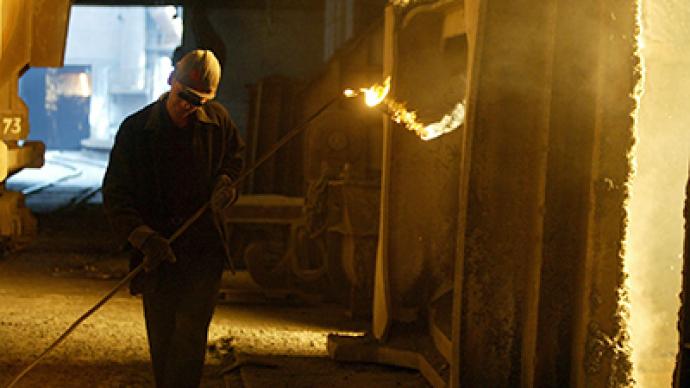 Russia's steel giant Severstal is closing down its Italian steel producer Lucchini in December. Falling demand is cutting the steel maker's profits, making it leave the area along with other Russian companies.
Lucchini S.p.A. is controlled by Alexey Mordashov the CEO at Severstal and will halt blast-furnace production at the Lucchini Piombino company because of weak demand, according to Steel Business Briefing.The Swiss Klesch fund is reportedly interested in the facility and has offered €200mn say Italian newspapers Milano Finanza and Il Sole 24 Ore.The offer should be reviewed in the first week of December. Lucchini closed in 2011 with a €65mn loss and outstanding debt above €700mn. The monthly average losses in 2012 are estimated at €15mn.Severstal isn't the first Russian metal company who decided to cut its European production. Mechel – another big player in a steel market – said last week it was temporarily suspending steelmaking capacities in Romania "due to unfavorable conditions in raw material markets and finished steel products."Earlier in October Evraz, Russia's second largest steelmaker, stopped steel production at its Czech subsidiary.The decisions to stop operations in Europe are quite logical, as falling demand eats into the producers' profits, Boris Krasnozhenov, analyst at Renaissance capital, explained to Vedomosti daily. The prime cost to produce steel and rolled stock is higher in Europe than in Russia. It was the huge market volume in Europe, as well as concentrated consumers – auto makers, construction companies – that attracted Russian companies to the region, Krasnozhenov added.Anyway, since the start of the crisis in 2008 the market shrank, according to the Renaissance capital analyst. Steel consumption fell 22.5% between 2006 and 2011 to stand at 155m tonnes a year, with the forecast for 2012 being at 145 million. Cutting excess capacity could be a key to growth, says Sergey Donskoy, an analyst at Societe Generale. But at the moment fears of social tension, as well as hopes of a recovery in the foreseeable future restrain company owners from shut downs. Steel prices are going to start recovering in 1Q 2013, with growing consumption in China being one of the main drivers, Krasnozhenov concluded.