Market Buzz: Bullish on news from West, but wary of Greece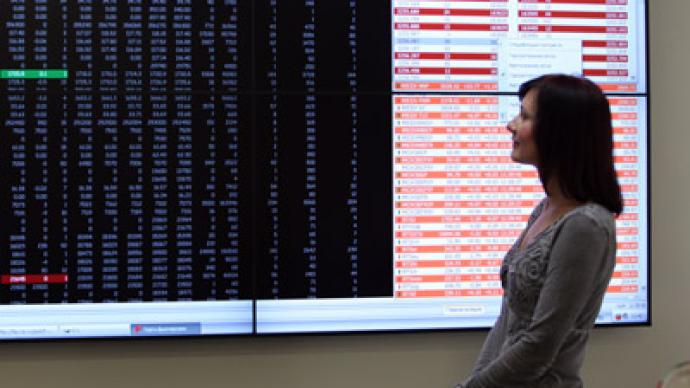 A positive trend started in the Russian markets on Wednesday is largely expected to go into a Thursday trading session. However, a risk of a "black day" is hanging around the floors, as another acknowledgment of Greek insolvency would disappoint investors
Greece private creditors, who are to suffer huge losses from the write off of the country's debt, asked the International Swap and Derivatives Association for a compensation. Should the body agree to pay off the €100 bln to the private bond holders, it would effectively mean Greek default on sovereign debt obligations.
"This would be likea "cold shower" forthe holders of debt obligations of other European states, triggering a massive sale of their bonds", says Aleksey Pukhaev, an analyst of Investcafe. "And behind the background of the sale of, the yields would sharply go up, while the investor appetitefor risk will diminish," Pukhaev explained.
Basically, the experts expect the foreign background to be mildly positive for the Russian markets on Thursday, with some of the good news from a previous trading session likely to have a longer term effect, Veles Capital analysts say.
"Thursday we expect upside trend to preserve at the Russian debt market due to output of good GDP data in the U.S. Also quotes growth will be stimulated by inflow of liquidity in the euro zone."
Both the RTS and the MICEX closed on a positive note on Wednesday, with RTS adding 1.55% to 1,734.7 points and MICEX going up 1.5% to reach 1,597.67 points.
Among the major international market drivers on Wednesday were the Ben Bernanke speech, as well as the decision by theECBto give €529.5bn in emergency loans to 800 Euopean banks. The fed head said no more dollars will be printed out in another round of quantitive easing.
Also, a revised figure for the US GDP growth in 4Q 2011 added optimism to the markets. The USMinistry of trade said the American economy grew3%year on year during the last 3 months of 2011, while the general analysts' expectation stood at 2.8%.
Russia wise Razgulay, the country's huge food producer, was an absolute market leader in Wednesday trading, as its shares went up more than 20%. That was due to the rumor on VEB purchasing a share of the indebted company, Veles Capital explained.