Market Buzz: Investors anticipating news from EU and US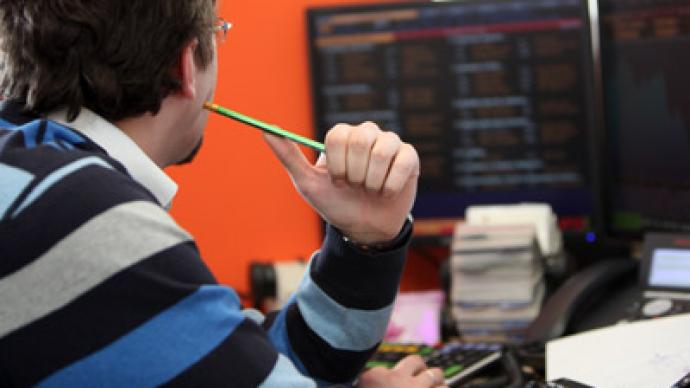 Russian trading will be largely driven by stats flow from the US and news of the European Central Bank's loan decision.
"The Russian market has a positive background", says Kirill Markin from Investcafe. "It allows us to speak about bullish sentiments at the opening of trading.  The further course of events will depend on numerous stats expected on Wednesday."Russian stock markets closed in the red on Tuesday as investors reacted modestly to news from Europe and the US. The RTS fell 1.11% and the MICEX closed lower1.17%. The shares of Belon coal producer (-3.5%) and Surgutneftegaz (-1.08%) were among decliners.European shares climbed on Tuesday as investors looked ahead to the European Central Bank's second offer of three-year loans to banks on Wednesday. Europe's banks are expected to get support in the shape of another half trillion euros. The Stoxx Europe 600 closed 0.2% higher, while French CAC 40 rose 0.4% and Germany's DAX 30 went up 0.6%.US markets rose Tuesday amid mixed macroeconomic data and a decline in oil prices. The Dow Jones added 0.2% and closed 13,005.12 for the first time since May 19, 2008. The S&P 500 was up for the fourth day running, adding 0.3% on Tuesday. The MBA Mortgage Index and the MBA Mortgage Purchase Index will be published later on Wednesday.Asian shares mostly traded higher on Wednesday, supported by better-than-expected industrial production data from Japan. Japan's Nikkei Stock Average was up 1.3%, South Korea's Kospi gained 1.4% and Hong Kong's Hang Seng added 0.6%. However Shanghai Composite bucked the regional trend and shed 0.1%.
You can share this story on social media: