Russia's manufacturing finishes 2012 on a weak footing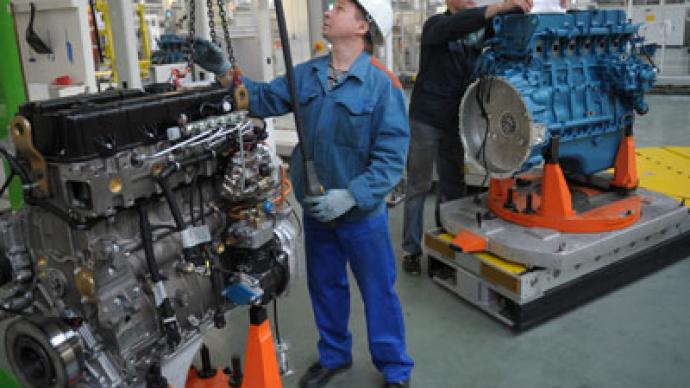 Manufacturers in Russia seem to have run out of steam by the year end, as the December indicator has fallen at the sharpest pace in 4 years. That's "stabilisation, not stagnation" according to the authors of the HSBC report.
The HSBC Purchasing Manager Index (PMI) for Russia stopped at a dividing line of 50 points in December. That marked one of the sharpest month to month falls, with a November figure standing at 52.2. A PMI reading above 50 points to growth, with below 50 pointing to economic contraction.Employment in manufacturing falling at the fastest rate since August 2009, along with lower output, and coupled with shrinking new export business that was going down at the fastest pace since October 2010 were the main drag on Russia's manufacturers in December, the HSBC report explained.However, Artem Biryukov, HSBC Economist for Russia and CIS, remained optimistic saying that the fall was largely due to lower demand from foreign markets. "Stabilisation, not stagnation – this is how we interpret the results of the December HSBC Russia Manufacturing PMI release," he said. "Importantly, over-production was blamed for why factory output was so weak in December. Therefore, producers were adjusting for softer Russian economic growth going forward. Resumption of stronger growth is still on the agenda as we estimate moderate stock levels in the manufacturing sector."At a meantime, manufactures in all major economic powerhouses – the US, China and even struggling Eurozone – enjoyed improvement in December. In the US the 'flash' PMI reading, which is based on around 85% of the usual monthly replies, stood at 54.2, signaling the strongest pace of growth in 8 months. In November the figure was at 52.8. The growth was largely due to improving output that is going up at an annualised rate of around 4% compared to the contraction seen back in October. "Such a steady run of improved growth of production is a good indication of a turning point in the economy as a whole, especially as it is feeding through to higher employment. The manufacturing sector has been acting as a drag on the official payroll numbers in recent months, but this situation looks to be changing as firms take on increasing numbers of workers in line with fuller order books," commented Chris Williamson, Chief Economist at Markit, a global financial information service that partnered HSBC for PMI reports.In China, a 'flash' reading for December Manufacturing PMI was also in growth territory – at 50.9 – at its fourteen-month high. In November the indicator stood at 50.5. "As December flash manufacturing PMI picked up further to a 14 month high, it confirmed that China's ongoing growth recovery is gaining momentum mainly driven by domestic demand conditions," Hongbin Qu, Chief Economist, China & Co-Head of Asian Economic Research at HSBC said.And the Eurozone that has been an epicenter of intensifying economic troubles also produced growth, though remaining in a contraction territory. 'Flash' Eurozone Manufacturing PMI was at its nine – month high of 46.3 in December, which compares to a November reading of 46.2.  "The eurozone downturn showed further signs of easing in December, adding to hopes that the outlook for next year is brightening," Williamson concluded.