RenCap Conference hears money duration critical for Russia's long term
Published time: 28 Jun, 2011 06:57
Edited time: 28 Jun, 2011 11:36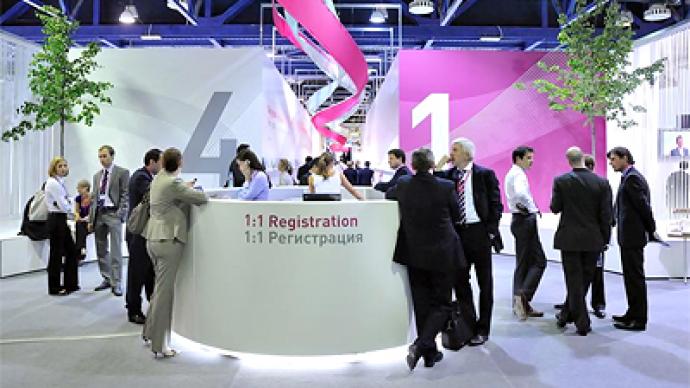 Despite a rebounding economy and growing demand a major investor conference in Moscow has heard that changing the money duration of investment into Russia remains a key factor in underpinning the longer term economic outlook.
The leading global economists and business figures met on Monday in Moscow at the Renaissance Capital Investment Forum to discuss major economic issues and their implications for Russia.The key theme was Russia's need for foreign investment, and in particular the need to turn what is often seen as short and speculative investment into longer term more durable commitment.
Kirill Dmitriev, General Director of Russian Direct Investment Fund, was upbeat about the short term economic outlook noting the country has the worlds 3rd largest reserves and a government debt to GDP of about 11%, compared to nearly 100% in the US.But he added that attracting long term investment, which will provide for a more stable economy in Russia, was a priority, and that a key to this was making sure that international investors are better informed about Russia.
"It's important to overcome those perception gaps that exist between investors' view and what's actually happening in real Russia. For example, many people are still very surprised to realize that the amount of middle class households in Russia, that's defined by households earning more than $10,000 a year, has tripled in five years, from 11% to 30%."
Sergey Guriev, Rector at the New Economic School, said that overt signals such as joining the WTO and OECD would be game changers in terms of perception of Russia by investors.
"WTO accession will be a good signal of that Russia is moving in the right direction. Another important signal would be Russia's accession to OECD, that will also show that the country's commitment to opening up change and transparency. "
Guriev added that other key changes would include the governments privatization programme which would make the privatized companies and market in general more efficient and competitive as well as generate institutional change. Dmitriev also noted the importance of institutional change.
"I think, institutional reforms are necessary and some of them are being under way now, for example tax reform," he agreed.
However, economists warned against the threat of being too optimistic and pointed to high levels of both economic and political volatility, with an overheated oil market and lack of long term money as the real economic concerns for Russia talking longer term.Guriev said that Russia's reliance on oil revenues, particularly insofar as their underpinning of budget outlays, meant that Russia's budget was becoming predicated on something which was not economically sustainable globally.
"Russia's budget for 2011 is balances at $105/bbl for oil and for the next year it's $120/bbl, while 5 years ago it was $50/bbl. So, in that sense today we are in the situation where the oil price is unsustainably high."
The conference also heard that the coming Duma and Presidential elections would be a source of volatility in perception of Russia, with markets concerned about the consistency of economic policy and top level commitment to economic reform.
­James Blake, Anastasia Kostomarova, RT